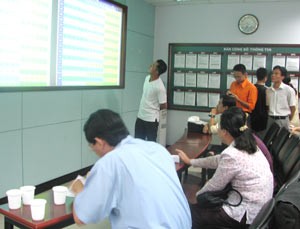 Investors surprised when stock price suddenly slid. (Photo: T.C)
The 3 day surge of the VN-Index has come to a sudden halt in May 16 trading session.
Shares dropped dramatically as 33 out of 36 stocks and fund certificate slid pulling the VN-Index down 25.73 points (4.36%) to 564.52 points at the end of the session.
22 of them were down to floor prices including blue-chip stocks of Vinamilk, Kinh Do, Sacom, and Gemadept...
Among 3 stocks which bucked the trend, TS4 and TNA slightly upped because of their small sale offer while HAP, which has just been voted as one of the best ten companies in Hai Phong City 2005, remained flat at VND 58,000/share.
Meanwhile, foreign investors miss no chance to buy in once the market went down. Their total buying volume within the session reached VND 62.52 billion along with a mere VND 39.17 billion worth of selling volume. Their highest buy-ins were REE (155,760 shares, approximately VND 14.79 billion) and VNM (74,260 shares at VND 6.7 billion), the two current key stocks of the market.
Related Articles:
Viet Nam's WTO Accession Warms Up Stock Market
Viet Nam's Stock Market in Weekend Session: Buying Power Rises Again
The Viet Nam Stock Market: Stocks Turn Around Spectacularly