After the continuous increase of stock prices in the last two weeks, the securities index consecutively set up new records and marked a new "fever" in the Vietnamese financial market.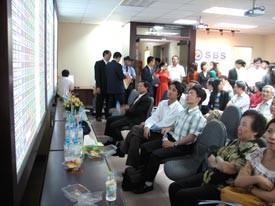 Vietnamese stock market is becoming the "new heaven" of financial investors. (Photo: T.C)
On the Ho Chi Minh City Securities Trading Center (HSTC), PGC stocks of the Petrolimex Gas benefited from the hot increase with its unexpected "debuting price" on the last session of the week, an investor at the floor of the ACB Securities Company (ACBS) said.
At the Ha Noi Securities Trading Center (HASTC), VND900 billion in par value of BCC stocks of the Bim Son Cement Joint-Stock Company was the proof that a "fever" of registered stock volume was being brought to the exchanges in the last months of the year.
Currently, HSTC and HASTC bourse have listed 75 types of stocks, one fund certificate and hundreds of bond codes. The share market alone has achieved the total capital size of VND16.5 trillion and the market value is estimated at more than VND103 trillion, equivalent to US$6.5 billion, 12 times higher compared with the beginning of the year.
The value of matching prices in the trading session on November 24 also reached a record with over VND467.5 billion, approximately US$30 million, being 3 times more than the average level of the Philippines stock market and approaching some other countries in the area.
The impressive growing numbers have explained why Viet Nam is being acknowledged as the "new heaven" for international financial investors. The increase of foreign investors' buying demand started the "price fever" since the country officially joined WTO.
Within 18 days, there were 14 sessions of which 12 had increasing indexes. The VN-Index has passed all previous records to pause at 665.63 points when closing at weekend, going up to totally 148.42 points equivalent to the average benefit of nearly 30%.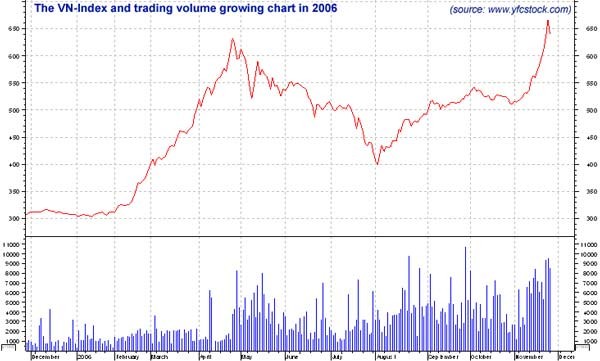 VN-Index has upped to over 2 times compared with the beginning of the year. (Charting by T.C.)
Investors are rushing to buy stocks regardless of whether they are good or bad companies due to the potential impressive benefits. "In the present fever, the buyers mostly don't care whether the stocks are good or bad and just think that they all have profit", an expert investor at ACBS said.
Moreover, listed companies are making use of this time to announce attractive information such as bonus stocks issue, the issuance of more stocks with preferential prices (as AGF, SAM, ITA...) and even business performance reports.
For example, the SMC Trading Investment Joint-Stock Company revealed that their profit in the first 10 months is up to VND18 billion and that of each stock is VND3,015.
The impressive financial indexes also make the market hotter. The stock prices therefore continue to escalate and the threshold of 700 points forecasted by experts can be soon broken.
Related Articles:
Two weeks after joining WTO: Stock Fever with Capitalized Value Up To Over US$430 Million
ACB Bank's Shares Make Hot Debut
Viet Nam Stock Exchange and Small Investors
Economic Pressure with Trillions of VND at Stake