Gloom prevailed on the markets Tuesday as the VN-Index shed 8.12 points to close at 483.92 and stocks suffered yet another sharp decrease in trading volume.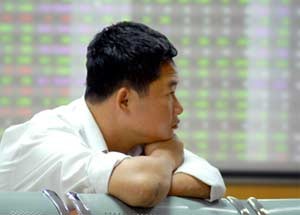 Discouraged by the stocks' poor performance, many investors sell their shares or leave the stock market
Sell orders overwhelmed buy orders on the city's stock exchange. Only 1.06 million shares found new owners this morning. Each company listed had an average of 7,000 shares traded with an average value VND250 million (US$15,600).

The most heavily traded shares were blue chips, which are popular among foreign investors. These shares include Phu My Fertilizer and Chemicals (DPM), Viet – Han Investment & Manufacture (VHG), and Vinh Son Hydropower (VSH).

No orders were executed for Vietnam Electricity Construction (VNE), VTC Telecommunications (VTC), and Hang Xanh Auto (HAX).

As a result, the total trading value was only VND39.964 billion (US$2.49 million), 60 percent lower than yesterday.

In Ha Noi, only 347,800 shares worth VND11.39 billion (US$711,800) changed hands, 55 percent less than during the previous session. Eight stocks lost their liquidity Tuesday. The market's lowest liquidity rate is now the lowest it has been in the last two years.

The VN-Index has been experiencing a free fall since the beginning of this year. It has dropped 443.1 points from the 921.07 level it held earlier.

Many investors, discouraged by the stocks' poor performance, have sold their shares and decided to leave the stock market.

The foreign investors who bought in a large number of shares earlier were affected by the mood of their domestic peers and bought fewer shares than usual.

This is a difficult time for the stock market as it is impossible to predict how low the VN-Index can drop or when the government will be able to curb inflation, a key reason for the market's weakness.