The nation's stocks surged on May 25 as investors raised their confidence in the market.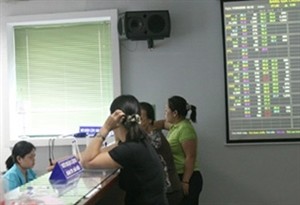 The VN-Index gained 0.21 per cent to close at 563.00 points, with gainers outnumbering decliners by 130 to 76. (Photo: thanhnien)
This was the fifth consecutive improving session since last week.
Both bourses strongly fluctuated at the start of the afternoon session, but investors helped improve the market by increasing their purchasing volume.
The VN-Index gained 0.21 percent to close at 563.00 points, with gainers outnumbering decliners by 130 to 76.
Market liquidity fell by 10 percent to more than 108 million shares being traded. Total trading value was 1.55 billion VND (72 million USD), a decrease of 17.8 percent over the previous session.
The VN30 Index, covering the 30 largest stocks by market value and liquidity, rose 0.3 percent to end at 588.36 points. This basket had a mixed performance with 13 gainers and 15 losers.
Bank stocks had a mixed performance. Half of them rose, including the Bank for Investment and Development of Vietnam (BID), Vietinbank (CTG) and Sacombank (STB). The other half, including Military Bank (MBB), Vietcombank (VCB) and Eximbank (EIB) declined.
Gas stocks worsened on the market. PetroVietnam Gas JSC (GAS) remained flat, while others such as Petrovietnam Drilling & Well Service Corporation (PVD) and PetroVietnam Transportation Corporation (PVT) were down 0.93 percent and 0.87 percent, respectively.
The northern bourse also improved. The HNX-Index edged up 0.88 percent to finish at 80.25 points. Of all stocks, gainers also outnumbered losers by 121 to 74, while 168 others stayed flat.
Market liquidity declined compared with the session on May 22. Trading volume totalled 46.2 million shares, worth 519 billion VND (24 million USD), decreasing 19 percent.
The HNX30 Index surged 0.87 percent to 151.13 points. In this basket, advancers outclassed decliners by 19 to four.
On the northern market, gas codes had a mixed performance. PetroVietnam Southern Gas JSC (PGS) and PetroVietnam Coating JSC (PVB) rose by 2.62 and 1.71 percent.
In contrast, Drilling Mud Corporation (PVC) and Petroleum Technical Services Corporation (PVS) lost 0.9 percent and 0.78 percent.