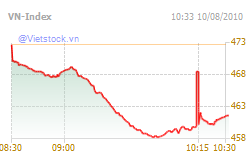 Movements of VN-Index on August 10. (Photo: vietstock.vn)

Vietnam's stock markets experienced big losses for a second consecutive day on August 10, sending the indices to lowest levels since the beginning of this year.
Vietnam's benchmark VN-Index, which tracks 253 companies and five mutual funds listed on the Ho Chi Minh Stock Exchange, tumbled 2.34 percent, or 11.07 points, to close at 461.67 points.
Due to the 2.09 percent decline the previous day, most investors opted to dump shares to cut losses after the opening bell, while others hesitated to buy.
There were only 10 stocks that advanced. Meanwhile, 222 retreated and 16 treaded water.
Trading volume climbed to 57.2 million shares, worth VND1.59 trillion, the highest level since the beginning of July.
Saigon Thuong Tin Commercial Bank or Sacombank (STB) topped the list of most active shares by volume with 2.15 million shares changing hands.
It was followed by Saigon Securities Inc. (SSI), which saw 1.77 million shares traded today.
From August 10 to 30, Ngo Anh Thu, daughter of Ngo Van Diem – member of the Board of Directors of Saigon Securities Inc. (SSI), registered to sell all 2,000 shares, to balance personal finances.
Refrigeration Electrical Engineering Corporation (REE) came in third with 1.47 million shares.
Sao Mai Construction Corporation (ASM) sank 10.96 percent to VND65,000. The company will pay dividends from 2009 at a ratio of 20 percent and advance that year's dividends at a 30-percent ratio.
Nguyen Hoang Sang, chief financial officer of Sao Mai Construction Corporation (ASM), registered to buy 60,000 shares between August 12 and October 12, to increase his holdings ratio.
In the same period, Le Van Ba, brother of Le Thi Phuong – chief accountant of ASM, registered to sell 1,000 shares for personal needs.
From July 12 to 30, Le Van Thong, brother of Le Thanh Thuan – chairman of ASM sold all 4,000 shares for personal financial need.
Other decliners on the city bourse included Seafood Joint Stock Company No4 (TS4), Vinaship Joint Stock Company (VNA), and Binh Thuan Hamico Mineral Joint Stock Company (KSA).
Vien Dong Pharmaceutical Joint Stock Company (DVD) advanced for three consecutive days, gaining 4.92 percent to VND128,000.
Seafood producer Vinh Hoan Corporation (VHC) surged 4.78 percent to VND43,800.
Saigon Fuel Company (SFC) shot up 4.23 percent to VND37,000, up from VND35,500 yesterday.
The smaller bourse in the north also continued to lose ground; Hanoi's HNX-Index contracted 4.05 points, or 2.85 percent, to 137.85. Around 38.4 million shares changed hands at VND952.7 billion.
The UPCoM-Index clipped 0.63 points to 48.73, as of 11 am local time. The trading floor of unlisted stocks recorded 600,000 shares changing hands, valued at VND6.9 billion.