Share prices in Ho Chi Minh City fell on Monday after two days of rising, with trading volume plummeting, as investors remain unwilling to participate in the market despite of good news on fuel prices and interest rates.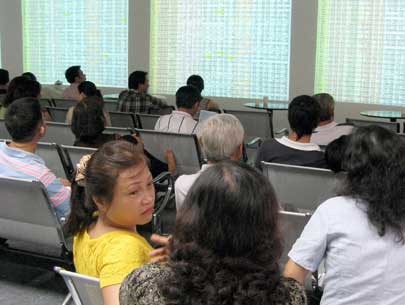 The trading session Monday is gloomy although
The VN-Index of 165 leading companies and four closed-end funds lost 7.02 points, or 1.99 percent, to close at 345. Trading volume was 10.8 million shares, compared with an average of 15.7 million last week. Of the index's members 38 rose and 113 fell.
"Despite the government's retail fuel price slash last Friday, investors still hesitated to join in the market, waiting for signs of certainties on the market" one trader in Ho Chi Minh City said.
The government Friday decided to cut fuel prices and increase fuel import tariffs for a second time this week, as global crude oil prices continued to subside.
From last Saturday the price of the most popular 92-octane gasoline will be VND1,000 (US$0.06) down at VND13,000 ($0.76) per liter, according to a press release from the Ministry of Finance.
Meanwhile, the Vietnam News Agency quoted an economic expert that banks would cut interest rates this week. Vietcombank was the first bank announcing cuts in interest rates. The bank said the new prime interest rate, valid from today, is 13.5% , or 2 percentage points less than before and 1.5 percentage points higher than the rates limited by the State Bank.
Pha Lai Thermal Power Joint-Stock Co. (PPC), Vietnam's largest listed power company, dropped VND1,100, or 4.55 percent, to close at VND23,100 after a member of the company's supervisory board cut his stake. The firm said in a statement posted on the exchange's Web site that Pham Quang Vinh will sell 330,000 shares to reduce his holding to 825,000 shares. The sale will take place in the four months from November 26.
Vinasun Corp. (VNS), operator of Vinasun taxi, posted a 1.52 percent fall to close at VND19,500. The firm informed to the exchange that chairman Dang Phuoc Thanh raised his holding from 14.7 percent to 17.65 percent through buying 500,000 shares last week.
Construction material supplier Thanh Thanh (TTC) remained unchanged at VND10,000. The firm will pay dividend at the rate of 5 percent per share and go ex-dividend on November 26, according to a statement posted on the exchange's web site.
Property firm Vincom (VIC) also treaded water at VND78,000. The Hanoi-based company said on the exchange's website Nguyen Thuy Ha, one of its big shareholders, sold more than 700,000 shares to cut her stake from 5.53 percent to 4.9 percent.
Thu Duc Housing Development Corp. (TDH) was unchanged at VND34,500. The company has been approved to list 2.25 million bonus shares on the exchange.
Foreign investors today spent VND21 billion to buy 42 million shares while notched up VND25 billion from selling 46 million shares.
At Hanoi's stock exchange, the HaSTC-Index closed at 111.35 points, showing a 2.41 percent decline from last Friday's trading session.