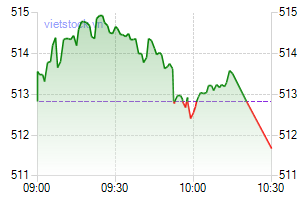 Movement of VN-Index on June 24. (Photo: Vietstock.vn)

Stocks on Ho Chi Minh Stock Exchange declined on June 24 as selling demand took the upper hand.
VN-Index, which tracks 241 companies and four mutual funds, dropped 1.15 points, or 0.22 percent, to finish at 511.67.
Of the index, 109 shares gained, 90 fell, and 46 remained unchanged. More than 53.1 million shares changed hands at VND1.49 trillion.
Though it has approached the 515 mark for seven trading sessions, the benchmark has not yet surpassed it. Demand to buy, especially blue-chip stocks, must increase for the index to advance further.
Vinalink International Freight Forwarders (VNL), which gave up 4.74 percent, was the biggest loser on the city bourse.
Dry Cell and Storage Battery Joint Stock Company (PAC) eroded 4.51 percent to VND63,500.
Meanwhile, seafood producer Nam Viet Corporation (ANV) and General Materials Biochemistry Fertilizer Joint Stock Company (HSI) both closed up 5 percent to VND21,000 and VND16,800 respectively.
Mining company Hoa An Joint Stock Company (DHA), Vien Dong Investment Development Trading Corporation (VID), and Ha Tien Transport Joint Stock Company (HTV) all added 4.97 percent to VND48,600, VND16,900 and VND19,000 respectively.
PetroVietNam Transportation Corporation (PVT) continued to top the list of most active shares by volume with 2.96 million changing hands.
Petrovietnam General Services Js Corporation (PET) was next with 2.51 million shares, followed by Vien Dong Investment Development Trading Corporation (VID) with 1.95 million shares.
In contrast, the Hanoi's HNX-Index rose 0.12 points, or 0.07 percent, to 162.98. Around 34.6 million shares, worth VND1.16 trillion, were traded.
The UPCoM-Index slid 0.32 points to 46.41 as of 11:25 am local time. Trading volume was at 282,240 shares, worth nearly VND5 billion.
Internationally, the Dow Jones Industrial Average index and Japan's Nikkei 225 index both rose 0.05 percent. Meanwhile, the Nasdaq Composite index slid 0.34 percent and the S&P 500 index 0.3 percent.
FTSE 100 index declined 1.31 percent. France's CAC 40 index gave up 1.72 percent.
China's Shanghai Composite index lost 0.26 percent.