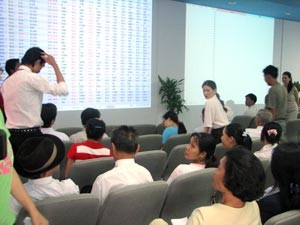 Individual investors worried to see stock prices are falling rapidly. (Photo: T.C)
The VN-Index, on April 25, stayed on its peak at 632.69 points but made a long way down to 434.24 points on July 26. The stock average has slid by 12% since the beginning of the week, and by 30% from its top in April.
This Monday morning, at ACB Securities Company (ACBS), the trading floor was crowded with people watching the electronic screens attentively. Amongst the crowd, many people were trying to open their new trading accounts.
With such an enormous attention on stocks, few believed stocks price in recent days could fell that hard. The majority of short-term investors were worried to see their stocks fell everyday and their pockets were heavily drained.
The question is why the market could sink so rapidly while the size of the trading is nowhere to match the currently enormous investing potential.
From the market's point of view, many analysts believed that "many disadvantages came from the dramatic surge in the early months of the year".
That was the time when a group of new investors emerged, and made money too fast and too easy. That was also when many of the market flaws came into light. Individual investors, who were not sufficiently adept, were looked down on more seriously when the "new investors" showed off their "Midas' touches".
The consulting role of brokerage firms were nowhere to be seen as they did not have enough capable staff.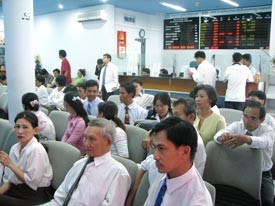 The stock price of small companies will effect to financial resourse of new investors. (Photo: T.C)
In fact, the information on listed companies provided by brokerage firms is often insufficient. They only provide the balance sheet and income statement and ignore the footnotes as well as auditor's reports, which are clearly stated as inseparable parts of financial statements.
Moreover, although the market regulator on Ho Chi Minh City bourse has raised the listing requirements, there still remain some bad quality companies. These companies, which are small in size, are too delicate under business turbulence and enormous trading volumes.
Veteran investors have learned to stay away from those companies but these stocks become traps for new investors.
Viet Nam's stock market fell hard right in its 6th anniversary of operation.
One factor contributing to the slide is that several listed companies took advantage of the previous surge to issue more share.
For instance, Sacombank intends to issue 30 million shares, worth at VND 2,250 billion.
Other companies such as ReeCorp, Agifish, Bibica, and VF1 also have their issuing plan.
Many of them choose to offer share at below market prices to strategic partners, which causes big institutions to halt their trading on the market and, in turn, make small investors upset.
Some listed enterprises even utilize the underwriting service from brokerage firms, making some firms and related investment institutions hesitate to buy in, pushing up the underwriting price, which means increasing risk.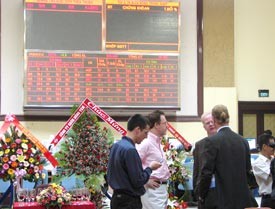 Two "giants" enterprise supply side of the stock market to surge by 80%. (Photo: T.C)
Besides, many investment funds start to mobilize capital. The public investment fund of Prudential – PRUBF1 is expected to attract VND 500 billion but the amount of money subscribed to buy may be 5 or 6 times greater than that. Many investors are ready to pay VND 10,300 for a PRUBF1's fund certificate, which has the net asset value of VND 10,000. Those investors prefer paying a premium of VND 300 for each certificate of PRUBF1, which has not yet come into operation, than paying for stocks on the market, which they cannot figure out the real value.
Recently, many big enterprises have rushed to float. In July and August alone, there are 7 or 8 companies to officially list, including the two "giants" Sacombank and Vinh Son – Song Hinh Hydro Power, which caused the supply side of the stock market to surge by 80% since the end of June.
There are also many new upcoming bourse participants after the middle-year financial reporting.
One thing worth mentioning is that the interest rate for credit and mortgaging securities is surging. With the equivalent annual rate of 13% and the downward trend of the market, few will borrow money to invest in stocks.
However, the majority of investors still stick to the market and investment fund are waiting to buy more stocks. New founded fund like PRUBF1 will use its money raised to pump into the market.
The current market is still 44% higher than the beginning of the year. Such a high rate of returns could not be easily seen in other investing channel.
Related Articles:
Eximbank To Issue VND 400 Billion Worth Of Share
EVN to Issue VND-900-Billion Worth of Bonds
Vinh Son – Song Hinh Hydro Power Valued Roughly at VND 4,400 Billion
Sacombank Can Buyback 30% Of Its Share
VF1 To Expand Chartered Capital To VND 500 Billion
Vietnamese Stock Market: New Investment Opportunities with More Listings and Share Sales
Stock Goes Below The "Psychological" Line
Sacombank Offers 30 Million Shares To Public