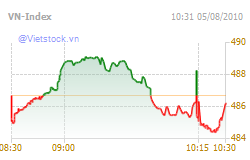 Movements of VN-Index on August 5. (Photo: vietstock.vn)

The shares of 251 companies listed on the Ho Chi Minh Stock Exchange dropped for a second consecutive day on August 5, amid unimproved demand and the dumping of shares by investors eager to cut losses.
Vietnam's benchmark VN-Index slipped 0.1 percent, or 0.5 points, to close at 486.21.
Of the index, 67 stocks advanced, 127 fell, while 61 remained unchanged.
Although several stocks retreated to a price level considered reasonable for disbursement, investors neglected to act.
Trading volume was thin, with around 37.4 million shares changing hands, valued at VND1.16 trillion.
Vinh Son - Song Hinh Hydropower Joint Stock Company (VSH) won the spot of most active stock by volume with 1.34 million shares changing hands.
Pha Lai Thermal Power Joint Stock Company came in next, with 1.21 million shares, followed by Vinafco Joint Stock Corporation (VFC) with more than 965,000 shares.
Sao Mai Construction Corporation (ASM) and Chuong Duong Beverages Joint Stock Company (SCD) sank the daily maximum allowed limit of 5 percent to VND76,000, and VND28,500 respectively.
Sao Mai Construction Corporation (ASM) announced that its net revenue reached VND241.9 billion in the second quarter, up 28.41 percent year-on-year, while prime costs reduced by 29 percent, sending its gross profit to VND114.5 billion.
Pre-tax and post-tax profits were at VND104.54 billion and VND80.92 billion respectively.
From July 12 to 23, Le Ngoc Xuyen, sister of Le Thanh Tuan – chairman of Sao Mai Construction Corporation (ASM) sold all 22,200 of her shares for personal needs.
TMT Automobile Joint Stock Company (TMT) dropped 4.88 percent to VND27,300. The company registered to buy 500,000 treasury shares between August 6 and October 30.
Information and Networking Technology Joint Stock Company (CMT) and DESCON Construction Corporation (DCC) declined 4.86 percent to VND33,300 and VND23,500 respectively.
Viet Nhat Seafood Corporation (VNH) led the big gainers on the city bourse, adding up 4.95 percent to VND19,100.
Thien Long Group Corporation (TLG) increased 4.94 percent to VND34,000.
Ha Tien Transport Joint Stock Company (HTV) surged 4.92 percent to VND34,100.
Hanoi's HNX-Index fell 0.41 points, or 0.28 percent, to 147.45. Trading volume dropped by 10 percent over the previous day to 27.8 million shares, worth VND754 billion.
The UPCoM-Index moved contrastingly, gaining 0.58 points to 51.12, as of 11 am local time. Around VND9.1 billion was spent on 470,000 shares.