Regulators and investors had got quite jittery about the downward trend after 5 consecutive sessions, where VN-Index dropped more than 90 points within a short period and every investors felt the grip on their shoulder.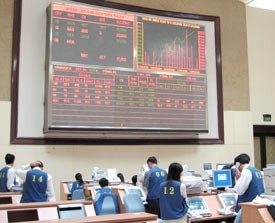 Brokers got more orders in Ho Chi Minh City Securities Trading Center. (Photo: T.C)
However, in May 11 trading session alone, share prices turned around dramatically.
While in previous sessions, there were always formidable selling orders remaining at closing, things changed rapidly in this morning session as the demand became stronger than ever. There were 4,200 buying orders for more than 8.82 million shares and fund certificates whereas the supply side made up 5.55 million shares.
Compared to the previous session, the buying volume has multiplied by nearly 7 times while the selling side saw a decrease of 37.96%.
The stock of Viet Nam Dairy Products Joint-Stock Company – Vinamilk (VNM) is leading the market today with the announcement of VND 273.3 billion of profit in the first 4 months of the year, which equaled to 42.9% planned profit of the company in 2006. The announcement arrived just in time. Buying volume of VNM rose gradually since the beginning of the session and stay ceiling-priced.
Immediately after, other key stocks have purchasing power followed such as REE, AGF, DHA and GMD... They were all pushed to their highest price in the session. At closing, 18 out of 36 stocks and fund certificate rose to the top.
Even so, not all stocks are getting better. The other 13 stocks' fall could not prevent VN-Index from soaring 22.13 points, closing at 542.95 points.
According to many experts, few other countries' stock markets had such uniformed fluctuation as Viet Nam's. It is partly because of the small size of the current market which depends too much on a few key stocks. The hope for new "quality" stocks to stabilize the market grew greater but there has been only one company listed (Taya Vietnam) in the last 4 months.
Related Articles:
Stocks Drop Again As New Investors Shaken
Infrastructure Company To List On Bourse
Share Prices Skyrocketed – Exciting and Concerning
First Foreign Share in Vietnamese Stock Market