Most subsidiaries of the construction and investment giant Song Da specialize in building and operating hydropower plants. However, they are suffering heavy losses from their property investments.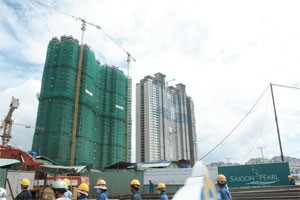 Subsidiaries of Song Da Holding are expected to pay back for their investment in property as the government limits credit to non-production businesses, including real estate projects and stock investments (Photo:Minh Tri)
Among Song Da's subsidiaries, Song Da Urban and Industrial Zone Investment and Development JSC startled its shareholders as it failed to meet last year's targeted profit of over VND1 trillion (US$50 million), making only more than VND600 billion.
Analysts said among the major causes of the failure were the frozen property market and rumors about its parent company's capital withdrawal.
In 2009, the Ho Chi Minh City-listed firm, also known as Sudico, raised the registered capital to VND1 trillion from VND400 billion. Of the additional fund, Sudico gained VND200 billion ($10 million) by an issue of 20 million shares for existing shareholders.
Despite the company's reports on the fund management, many shareholders still found themselves confused about the reports, which were considered as vague.
Song Da Investment - Development JSC earlier was among the stock market's top picks thanks to their positive earning results from real estate investments.
The firm, which lists on the Ho Chi Minh Stock Exchange with the trading name of SIC, is the contractors of two profitable construction projects of luxury apartment building Song Da Riverside in Thu Duc District and Song Da IDC Tower in Go Vap District.
The former with a total area of nearly 174,000 per square meter has 1,160 apartments worth around VND1.2 billion each, of which the construction work kicked off last year and is expected to finish at the end of 2013.
"What if the apartment building project's profit rate amounts to 30 percent of the selling price, it requires an investment of more than VND1 trillion to build 1,160 apartments. How does SIC get that amount?" said a broker.
Statistics show the firm last year issued additional shares to raise its registered capital by VND30 billion to VND80 billion ($4 million). It also borrowed more than VND131 billion from banks and issue bonds worth VND150 billion.
"If the loan's interest rate and the bond's couple rate are around 15 percent per annum, SIC will have to repay more than VND42 billion annually, which is larger than its after-taxed profit of VND18.5 billion in 2010," said the broker.
On March 1, the State Bank of Vietnam ordered all lenders to limit credit to non-production businesses, including real estate projects, at 22 percent of total loans by June 30, and at 16 percent by the end of the year.
The government in February approved a plan to cut annual credit growth to below 20 percent from the initial target of 23 percent as part of a series of measures to curb inflation.