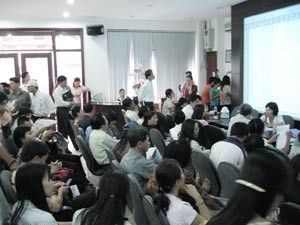 Investors highly assess the stock of housing and urban area developing business. (Photo: T.C)
On July 6, Director of Ho Chi Minh City Securities Trading Center (HSTC) Tran Dac Sinh announced the listing of the 39th stocks on the bourse – SJS of the Song Da Urban & Industrial Zone Development and Investment Joint-Stock Company (Sudico).
The company has the chartered capital of VND 50 billion and listed five million of its share on the exchange.
Right in its first trading session, with 43,790 shares valued at VND 100,000 each, SJS had an all-time-high debut price, which exceeded 20% that of many blue-chip stocks such as REE (ReeTech), VNM (Vinamilk) and KDC (KinhDo), becoming the only stock on the market traded at VND 100,000 and above.
Sudico caught investors' interest as the first company in housing and urban area developing business to list.
According to recent industry's statistics, the performance and profit-making ability of Sudico exceeds the industry's averages.
Sudico currently owns a significant market share in the real property business, which is approximately 3-4% and will likely rise to 6-8% once the company's projects come into their productive phase.
In 2006-2008 the company's revenue and profit are expected to grow rapidly and sustain the dividend rate of 20%.
Before flotation, Sudico's share has created a small "fever" on the OTC market.
Now, the official participation of SJS on the listing market not only helps to increase the amount of "quality goods" but also to diversify the listed businesses, which means more choices for investors' portfolio.
Related Articles:
Vinh Son – Son Hinh Hydro Power To Change Bourse
Unico – The Second Telecom Company To List
Report Positive Five-Month Results: Listed Companies Get New Signals
New "Goods" for Vietnamese Stock Market