Tax may be imposed in the near future on stock-related incomes, especially short-term income. Credit capital invested into securities will also be controlled.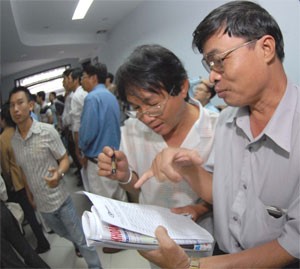 Investors skim latest news at a stock exchange center (Photo: SGGP)

The announcement was made at a National Assembly Standing Committee session discussing the socio-economic situation this morning in Ha Noi.

Minister of Finance Vu Van Ninh said the government will keep a close watch on the stock market to ensure that it grows quickly but remains stable, minimizing as much as possible the potential risks associated with a red-hot stock market.

2006 was a bumper year for Viet Nam's stock market with the value of listed shares going up 20% from the previous year and representing 22.7% of the nation's GDP.

Minister Ninh also revealed a decision on the price of gasoline, which may increase by VND500 per liter.