The recent stock surge turned too hot after two months of many ceiling-priced sessions. "Warning bells" are tolled as the press, the market regulators, and the government show their concerns over the red hot market.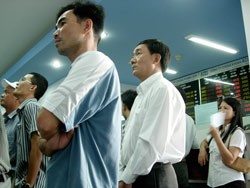 The stock prices so high but investors still think its can be continue to rise... (Photo: T.C)
During April 4 trading sessions, the market saw a sharp downturn. 23 of 36 stocks and fund certificates fell dramatically, pulling the VN-Index down 17.9 points (3.42%). The total trading volume hit the record of VND 161.6 billions and this "ten-million-dollar session" was expected by many experts as the turning point for the market to adjust and stabilize.
However, on the next day, the market got back on its bullish track. Key stocks like VNM, REE, SAM and VFMVF1 rose high and led the market to rally again. VN-Index was pushed up 15.7 points (3.11%) and closed at 521.12 points on April 5.
According to many market participants, the heat is unlikely to be cooled down soon. "The prices will continue to rise because of the enormous demand. In order to cool the market, the State Securities Commission (SSC) should take practical actions such as selling some State shares, to boost the supply side", investors at ACB Securities Company (ACBS) trading floor, commented.
Related Articles:
How to Cool the Market?
Creating "quality goods" for the stock market
What Behind Stock Value Increases