A listed textile company showed its swiftness in coping with accidents that caused losses and nervous sentiment of its shareholders.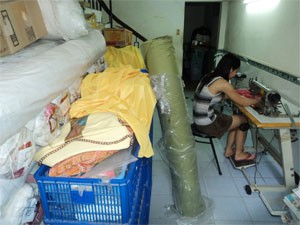 View of a warehouse of a textile company in HCMC (Photo:Minh Tri)
One out of six end-product warehouses of the textile company TNG located in the industrial zone Song Cong in the northern province of Thai Nguyen was burnt down at the end of last month.
The blaze not only incurred a heavy losses of nearly VND74 billion (US$3.7 million), but also scared off shareholders of Thai Nguyen Province-based firm.
Financial experts warned the loss was very big compared to the company's registered capital of VND134.6 billion and last year's after-tax profit of over VND24 billion.
Share price of TNG, which lists on the Hanoi Stock Exchange, lost nearly by the daily trading band of 10 percent to the record low of VND8,800 per share on May 31st as investors dumped shares strongly.
Efforts to calm the anxious sentiment have seen TNG chairman Nguyen Van Thoi immediately hold a press briefing to make official statement about the accident. 
Products, factory and machineries that were destroyed in the blaze caused a heavy loss of nearly VND57 billion, while repairing costs including rebuilding the plant and compensating customers were worth around VND17.5 billion, according to Thoi.
He also disclosed that the actual loss was reduced to less than VND30 billion as TNG bought insurances on the entire amounts of products and the warehouse.
"TNG with strong financial base has reacted quickly to the accident, thus it could not affect this year's targeted revenue of nearly VND1.2 trillion and dividend rate of 20 percent of the face value," the chairman told Dau Tu Tai Chinh Newspaper.
However, the targeted net profit would likely to be cut by around VND10 billion to VND40 billion, Thoi said, adding he is going to buy back a large amount of shares on the market.
"The buyback does not aim to calm investors. TNG's share price is very attractive now," Thoi said.
At the Ho Chi Minh Stock Exchange, TNG moved up five trading days in a row to VND12,900 per share, increasing nearly 42 percent so far this month.
Analysts said the company remained confident about the earning goal as they expected the TNG Phu Binh Plant that was put into operation last week would cover the losses from the accident.
They also said the accident should have been curbed from the beginning if Song Cong Industrial Zone had their own fire station. It reportedly took the first fire truck of the Thai Nguyen Province Fire Prevention and Fighting Police Department 26 minutes to arrive at the incident.
Vietnam's benchmark stock index has tumbled 14 percent from the 2011 high on February 9. The HNX-Index of the smaller bourse in Hanoi fell 35.2 percent this year.
Vietnam's consumer prices rose 19.78 percent in May from a year earlier, the most since December 2008, according to the General Statistics Office. Experts say inflation may accelerate to more than 20 percent this year.