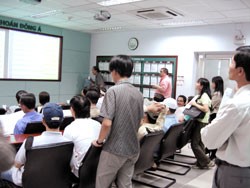 Investors buy stocks more and more. (Photo: T.C)
The April 21 trading session saw a new record of the Viet Nam's stock market as the total value of stocks traded nearly reached VND 194.84 billion (US$ 12 million).
Therefore, just after three trading sessions, the market once again broke a previous records when VN-Index came to its 5 years' peak of 571.04 points.
Nearly 2.73 million shares has changed hands, worth approximately VND 169.34 billion and 647.91 thousand of fund certificates, worth VND 25.5 billion.
At closing, 31/36 companies surged and pushed the VN-Index to 591.39 points, also a new all time high, an increase of 21.6 points (3.79%). As the trend shows, the market is likely to go over 600 points within some coming trading sessions.
Related Articles:
VN-Index Sets New Record