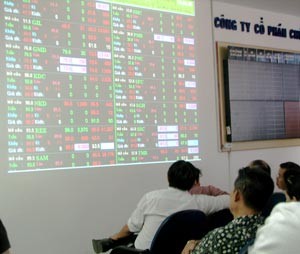 The stock market will have more listed companies in near future. (Photo: T.C)
The State Securities Commission (SSC) has just licensed the Petroleum Materials Joint-stock Company (Comeco) and the Song Da Urban & Industrial zone Development And Investment Joint-stock Company (Sudico) to list on the Ho Chi Minh City Securities Trading Center (HSTC).
Comeco will list 3.4 million shares; each has the par value of VND 10,000.
Meanwhile, Sudico will have 5 million shares, equaled to VND 50 billion of equity capital, to be traded on the market.
Therefore, after the Ho Chi Minh City Infrastructure Investment Joint Stock Company (CII) with the capital of VND 300 billion listed within this week, these two companies will enrich the market with its stocks in order to meet the demand of investors.
Moreover, Sai Gon Thuong Tin Commercial Joint-Stock Bank (Sacombank) has also been allowed to list but the exact time is not yet determined.
Kinh Do Corporation (KDC) and its brother North Kinh Do Food Joint-stock Company (NKD) are to issue more shares. The total offering estimated at 6.4 million shares and will be distributed as bonus shares for existing shareholders at the 10:2 ratio.
Related Articles:
Viet Nam's WTO Accession Warms Up Stock Market
Viet Nam's Stock Market in Weekend Session: Buying Power Rises Again
Infrastructure Company To List On Bourse
Sacombank to Raise Chartered Capital
Related Links:

State Securities Commission (SSC)
Song Da Urban & Industrial zone Development And Investment Joint-stock Company (Sudico)
Ho Chi Minh City Securities Trading Center (HSTC)
Sai Gon Thuong Tin Commercial Joint-Stock Bank (Sacombank)