US stocks were down Monday following a slide in global stock markets.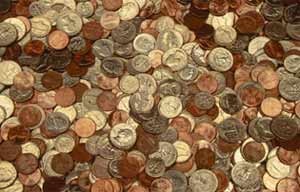 US coins





Raw materials led the decline. Aluminum maker Alcoa Inc. plummeted 83 cents, or 2.6 per cent, to US$31.15, and chemical giant Dow Chemical lost 92 cents to US$40.12.

US stocks followed a slide in global markets as worries over interest rate increases persisted. Emerging stock markets dragged down shares worldwide after falling for a 10th consecutive day.

The blue-chip Dow Jones Industrial Average was down 18.73 points, or 0.17 per cent, to 11,125.33. The broader Standard & Poor's 500 Index decreased 4.96 points, or 0.39 per cent, to 1,262.07. The technology-heavy Nasdaq Composite Index plunged 21.02 points, or 0.96 per cent, to 2,172.86.

On currency markets, the dollar fell against the euro, closing at 77.73 euro cents from 78.30 euro cents on Friday. The US currency also lost against the Japanese yen, dipping to 111.47 yen from 111.74 yen on Friday.

After dropping sharply on Friday, gold increased one dollar to US$652.50 per fine ounce.
(Sources: NYT, BKP)