US stocks fell sharply Tuesday and are headed for their worst month since December 2002 after oil prices rose and a report showed that consumer confidence is waning.

The New York-based Conference Board said its consumer confidence index fell to 103.2 in May from a four-year high of 109.8 in April. The report showed that Americans are especially concerned about the short-term economic outlook.

Crude oil for July delivery was up 0.9 per cent to 72.03 dollars a barrel in New York on supply concerns.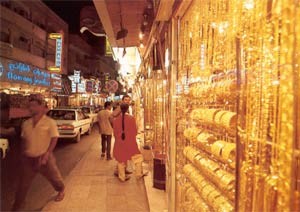 Gold market
General Motors Corp. could not continue its solid performance from last week. When markets reopened after being closed Monday for a federal holiday, shares of the world's largest automaker were down 5.4 per cent to 26.57 dollars.

Retail giant Wal-Mart Stores Inc. also contributed to the decline. The company's shares were down 1.35 dollars to 48.30 dollars after it announced that same-store sales in the US were not up as much as analysts had hoped.

The blue-chip Dow Jones Industrial Average lost 184.18 points, or 1.63 per cent, to 11,094.43. The broader Standard & Poor's 500 Index plunged 20.28 points, or 1.58 per cent, to 1,259.88. The technology- heavy Nasdaq Composite Index plummeted 45.63 points, or 2.06 per cent, to 2,164.74.

On currency markets, the dollar dropped against the euro, closing at 77.72 euro cents from 78.57 euro cents on Friday. The US currency also lost against the Japanese yen, dipping to 112.17 yen from 112.74 yen on Friday.

Gold increased US$18.25 to US$660.50 per fine ounce.
(Sources: NYT, BKP)