News of the Vietcombank (VCB) stock auction heated up the Ho Chi Minh City Stock Exchange this morning. With 124 stocks gaining and only five losing, the VN-Index was pushed up 27.18 points to close at 946.78.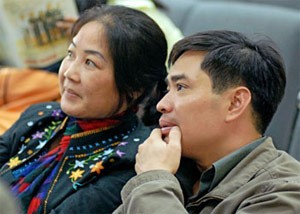 Today, the second consecutive day of Index increases, eases investors' anxieties
The second consecutive day of Index increases eased investors' anxieties. Buy orders for VCB shares surged from only 45 million shares to 110 million over yesterday, the last day for placing orders.
 
The record volume of VCB shares offered is forecast to be quickly sold out.
It is also forecast that competition in the auction will not be fierce and a vast quantities of cash recently stagnating will soon be flowing into shares again.
 
Investors rushed to buy blue chips today. About 1.04 million Sacombank (STB) shares changed hands and went up by VND2,000. Some 948,000 Phu My Fertilizer and Chemicals (DPM) shares were traded at an increase of VND3,000, and Saigon Securities (SSI) shares rose by VND3,000 with 622,000 shares sold.
 
Some 38 stocks rose to their upper limit, such as Agifish (AGF), Bach Tuyet Cotton (BBT), Chau Thoi Concrete Corporation No. 620 (BT6), Ho Chi Minh City Infrastructure Investment (CII), Hau Giang Pharmacy (DHG), Gilimex (GIL), Hapaco (HAP), Hoa Phat Group (HPG), Ha Tien 1 Cement (HT1), PetroVietnam Tourism and Service (PET), Song Da 5 (SC5),  Thu Duc House (TDH), Sai Gon Beverages (TRI) and Vietnam Electricity Construction (VNE).
 
Bullishness also crept to the Ha Noi bourse, with 99 stocks gaining weight and four losing. The HASTC-Index increased by 12.1 points to 331.05.
 
All big caps made some gains, including Asia Commercial Bank (ACB), Bim Son Cement (BCC), Bao Minh Insurance (BMI), But Son Cement (BTS), Bao Viet Securities (BVS), Petroleum Chemical Products (PVC) and Petroleum Technical Services (PVS).