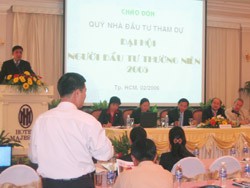 An investor raising question in the annual shareholders' meeting. (Photo: T.C)
The Viet Nam Investment Fund (VF1) has raised its capital from VND200 billion to VND500 billion, saying that its net assets value of each unit reaches VND15,203 .

The organizatyion announced the figures in the annual shareholders' meeting on February 28.
According to a report delivered by VF1 director Tran Thanh Tan on December 31, the fund's total assets value reached VND381.55 billion, and NAV of each unit was VND12,718, up 25% compared with the beginning of 2005. However, the first two months of 2006 saw the more intriguing increases in this figure. VF1 promises a dividend rate of 10% in the 2005 fiscal year, with about VND30 billion for all shareholders.
VF1 is the first public equity fund established in Viet Nam, officially raising fund from March 2004 and managed by Vietfund Management (VinaFund). VF1 has an initial capital of VND300 billion, the book price is VND10.000 each unit and its operation duration is 10 years.
Moreover, as there are still many opportunities to invest in the Viet Nam portfolio market, shareholders have decided to raise an addition of VND200 billion for the fund. VND120 billion shares will be sold to existing shareholders at the book price, with the 10:4 ratio.
The other VND80 billion will be offered to existing shareholders at the NAV price, which can be different from the book price, at the issue time. The remaining (if any) will be sold to strategic shareholders.
This can be seen as a big step forward for the fund after two years' operation. From now on, investors will have a better view of equity funds – organizations capable of stabilizing the market in the future.

VF1 investment portfolio:
| | | |
| --- | --- | --- |
| Company names | Invested capital(in VND billion) | Percentage(%) |
| Vietnam Diaries Products Company | 31.5 | 10.5 |
| Kinh Do Corporation | 24.3 | 8.1 |
| Tuong An Vegetable Oil Joint-stock Company | 10.5 | 3.5 |
| Binh Minh Plastic Joint-stock Company | 9.6 | 3.2 |
| Rang Dong Light Source Vaccum Flask Joint-stock Company | 30 | 10 |
| Military Commercial Joint-stock Bank | 29.7 | 9.9 |
| General Forwarding & Agency Corporation | 21.6 | 7.2 |
| An Giang Fisheries Import & Export Company | 14.1 | 4.7 |
| Hoa Binh Rubber Company | 20.1 | 6.7 |