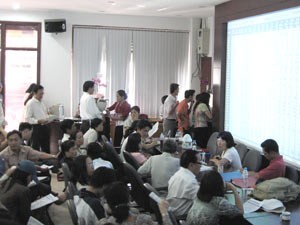 The stock price slip but the market shows no sign of cooling off. (Photo: T.C)
From its peak at 632.69 points, in the April 26 trading session, VN-Index was pulled down to 621.53, a decrease of 11.16 points (1.76%) as key stocks of the market such as REE, SAM, KDC, and VNM all slid.
Although the market had some pullback, the trading volume still stayed high. Throughout the session, there were 3.16 million of shares and fund certificate changing hands. The total trading volume, for the first time, went over VND 200 billion, or US$ 12.57 million.
As the market showed, the selling side propelled because of some listed companies' lower-than-expected quarterly reports. Investors now has to revaluate their circumstance.
LAF is the case in point. The company has just announced the loss of VND 6.3 billion and caused the selling of its stocks to surge. There were 316 thousand of LAF's shares still waiting for buyers. However, investors have no need to panic since the demand shows no sign of cooling off.
At closing, the market still had 21 kinds of share soaring. Most of them were "low price" shares being pushed up by the heated demand.