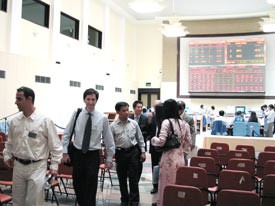 Foreign investors learn about Viet Nam's stock market at HSTC. (Photo: T.C)
Due to the positive information that came out from the agreement with the US about Viet Nam's WTO accession, right at the opening of Monday May 15 trading session, stock prices skyrocketed.
The VN-Index at closing reached 590.25 points, an increase of 23.49 points (4.14%).
This was the market's third consecutive sessions of growing as 32 of its stocks saw ceiling surges.
Surprisingly, REE, SAM, TMS – stocks with frequently strong buying demand and foreign investors' attention – only rose modestly compared to other shares as their demand and supply were fairly balanced.
Total trading volume of the whole market went over 2.82 million shares and fund certificates, equaled to VND 143.58 billion. Besides, there were VND 143.58 billion worth of stocks in negotiation trading and 439.96 billion worth of bonds changing hands.
On the secondary exchange, Ha Noi Sercurities Trading Center (HASTC), almost all stocks rose in 2 consecutive sessions, pushing the HASTC-Index to a new all time high 250.54 points, an increase of 9.83 points (4.08%).
This was one of the rare occasions that the Viet Nam's stock market showed a remarkable reaction to international news. As the attractiveness of the stock market keeps going on, any good news can cause the price to soar, said many investors.