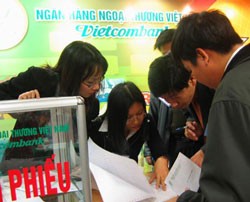 Vietcombank bonds are in the center of investors' attention
As much as 1,365 billion VND (roughly 85.5 million USD) worth of bonds of the Bank for Foreign Trade of Viet Nam (Vietcombank) will be traded on the country's stock exchange in June, Vietcombank General Director Vu Viet Ngoan said.
Currently, Vietcombank is finalising bond listing procedures for submission to the State Securities Commission for approval, General Director Ngoan added.
After bonds are listed, Vietcombank will conduct follow-up steps for an initial public offering, the General Director said. He added that the bank is working to choose one foreign consultant firm to assist it in mapping out an equitisation plan, that it is estimated to take the bank from 6-9 months to work on the equitisation plan and that after finalising the plan, in the first quarter of 2007, Vietcombank shares will be issued to the public.
He also said that various foreign investors have shown their willingness to invest in Vietcombank, the country's largest state-owned commercial bank with total assets reaching 140 trillion VND.
By the end of the first quarter of this year, Vietcombank had raised more than 146 trillion VND in savings deposits and lent over 53 trillion VND, with bad debts accounting for 2.6 percent of its total lending.
Source: VNA