Vietcombank's share auction took place yesterday at the Ho Chi Minh Stock Exchange (HOSE) with the highest bid reaching VND191,000 per share, said HOSE Director Tran Dac Sinh.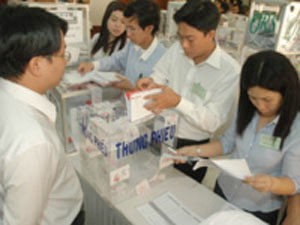 HOSE staff and investors in the Vietcombank's share auction yesterday
Vietcombank (VCB) set its minimum price at VND100,000. The share auction attracted 9,473 investors, 9,221 of whom were domestic corporations and individuals, the rest from overseas.

A total of 62 securities companies were chosen to receive buy orders for VCB shares, an increase of four to five times compared to any prior share auction.

The auction's ultimate impact of the HCMC bourse is expected to be announced later today. But, since yesterday afternoon, the HOSE has reported seeing 4,211 buy orders with a total volume of 36.5 million shares.

While offers ranged from the VND191,000 highest bid to the VDB's initial minimum, most investors offered VND110,000 for the shares. The highest number of shares in one buy order, by publication deadline, was 1.4 million.

The VCBs IPO is the biggest share auction launched on the HOSE to date, with total number of shares demanded reaching 122.2 million.