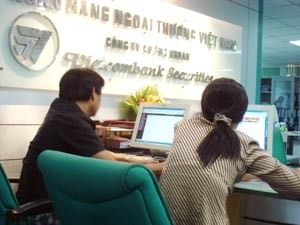 Investors can buy VCB's convertible bonds on the HSTC. (Photo: T.C)
Director of the Bank for Foreign Trade of Viet Nam (Vietcombank - VCB), Vu Viet Ngoan, said that Vietcombank will offer its shares for sale (IPO) in its equitization process no late than Q2/2007.
Mr. Ngoan also said that VCB's convertible bonds are going to be traded at the Ho Chi Minh City Securities Trading Center (HSTC).
Holders of these bonds have the preferred rights to buy the bank's common shares. The bonds are coded VCB_0105 and have the term of seven years. Interests will be paid annually at 6% on the par value of VND 100,000 each.
VCB's main target is still public offering even when it issues convertible bonds, Mr. Ngoan said.
Therefore, the approval by the State Securities Commission (SSC) for Vietcombank to list the bonds on the stock exchange before its IPO helps investors add more liquidity to their investment.
VCB, one of the four biggest state-run banks, is piloting equitization.
By the end of June 2006, the bank's total assets reached VND 148,000 billion, while shareholders' equity reached VND 9,700 billion. Vietcombank also met the international standards of the Capital Adequacy Ratio (CAR) at 8%.
Related Articles:
Vietcombank Bonds to Go on Bourse Next Month
General Director of Vietcombank Wins Asian Banker Magazine's Award