Vietnamese shares were mixed again on July 29 as investors sought profits in large-cap stocks following their recent gains.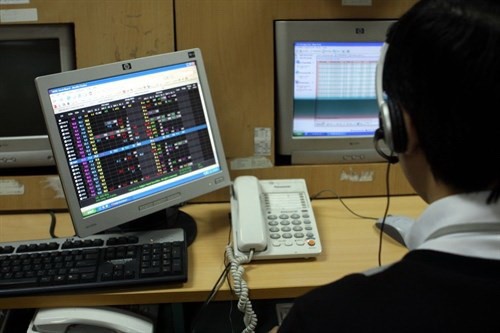 An official at the Hanoi Stock Exchange watches the market's trading activity (Source: VNA)
The benchmark VN Index on the HCM Stock Exchange pulled back 0.8 percent to finish at 652.23 points from a two-day increase of 1.3 percent.
The southern market declined as blue chips suffered from strong selling, Maritime Securities Inc (MSI) wrote in its July 29 report.
Those large-cap stocks included Joint Stock Commercial Bank for Foreign Trade of Vietnam (VCB), property firm Vingroup JSC (VIC), Vietnam Dairy Products JSC (VNM) and Saigon Securities Inc (SSI).
VCB dropped 1.8 percent after rising 5.8 percent in the previous four trading days, and VIC fell 2.9 percent after gaining 5 percent during the same period.
VNM retreated 1.2 percent from a three-day increase of 3.9 percent and SSI was down 1.3 percent from a three-session rise of 4 percent.
Steel producers Hoa Phat Group (HPG) and Hoa Sen Group (HSG) also declined.
HPG edged down 0.2 percent from a four-day jump of 11 percent and HSG slipped 1.5 percent from a three-day rally of 7.8 percent.
The HNX Index on the Hanoi Stock Exchange rebounded 0.2 percent to close at 83.71 points from the fall the day earlier.
Stocks that kept the northern exchange index positive were stone maker Vicostone JSC (VCS), Tien Phong Plastic JSC (NTP), Asia Commercial Bank (ACB) and Vietnam Construction and Import-Export Corp (VCG).
VCS added 1.6 percent, NTP increased by 1.2 percent, ACB was up 1.1 percent and VCG advanced 2 percent.
The oil industry, one of the major sectors, continued to fall on lower oil prices, which hit a fresh three-month low during the day, MSI said.
PetroVietnam Drilling and Well Services Corp (PVD) slid 0.4 percent, PetroVietnam Mud Drilling Corp (PVC) decreased by 0.8 percent and PetroVietnam Technical Services Corp (PVS) slid 1.2 percent.
Investors traded more than 159 million shares worth 2.7 trillion VND (119.8 million USD), a decrease of 8.6 percent from the trading value of the previous day.