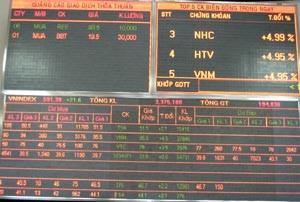 Stock prices up to higher and higher. (Photo: T.C)
The "stock fever" extended since the beginning of February has forced investors to buy stocks stock at higher and higher prices.
According to Ho Chi Minh City Securities Trading Center's (HSTC) statistics, the price to earnings ratio (P/E) of the whole market, to April 21, has upped to 26.19, two times over that of the end of 2005.
The market currently has 15 companies of which P/E are over 20.
Beside the "mountain-peak" P/E of BBT (135.79) and BTC's (129.33) based on their poor performance in 2005, blue-chip stocks' P/Es are also astonishingly high such as REE's (38.83), SAM's (25.25), VNM's (25.08) and KDC's (24.58).
The P/E ratio is one of the most basic consideration investors should take into account before putting their money on a stock.
It means how many times the market is currently prepared to pay for a stock compared to its returns. A high P/E might discourage investors.
Earlier this year, in one of his speech, Dr. Tran Dac Sinh, Director of HSTC, said that Vietnamese stocks are undervalued as their average P/E is still low (11.9) to that of 18 in China.
However, the current P/E can no longer be considered as cheap. Subsequently, the attractiveness of these stocks will decrease and mobilizing additional capital is far more difficult.
Statistics of Vietnamese stock market Listing companies:
Stock's Symbol

P/E ratio

EPS
(VND)

Yield
(%)

Listing Volume (shares)

AGF

13.74

5094.6

1.14

4,388,034

BBC

21.23

2199.7

2.70

5,600,000

BBT

135.79

143.6

6,840,000

BPC

15.22

2345.4

4.41

3,800,000

BT6

16.9

3431.6

2.59

5,882,690

BTC

129.33

172.4

1,261,345

CAN

18.58

2098.7

3.21

3,500,000

DHA

9.54

9484.7

3.37

3,849,962

DPC

20.99

1486.8

4.03

1,587,280

GIL

12.92

4413.1

2.91

4,550,000

GMD

19.93

3913.6

34,795,315

HAP

14.02

4492.3

3.20

3,250,251

HAS

12.85

5253.7

2.33

1,600,000

HTV

18.32

1850.4

4.02

4,800,000

KDC

24.58

3967.0

1.70

25,000,000

KHA

8.65

4461.5

4.62

3,135,000

LAF

20.33

1731.1

3.13

3,819,680

MHC

17.37

2417.6

1.93

6,705,640

NHC

8.92

5190.4

3.80

1,336,061

NKD

19.61

4844.7

0.96

7,000,000

PMS

23.74

1895.3

2.80

3,200,000

PNC

28.79

1424.3

3.00

3,000,000

REE

38.83

2408.2

1.56

28,174,274

SAM

25.25

3683.0

1.76

28,016,981

SAV

16.29

3683.6

2.71

4,500,000

SFC

15.42

3924.5

2.83

1,700,000

SGH

32.48

1446.9

2.13

1,766,300

SSC

13.69

4895.8

3.01

6,000,000

TMS

15.98

4068.5

2.33

4,290,000

TNA

16.82

3269.7

3.74

1,300,000

TRI

37.21

1254.9

3.37

4,548,360

TS4

21.27

2073.7

1.43

1,500,000

TYA

27.76

1855.2

4,201,440

VNM

25.08

3808.1

1.87

159,000,000

VTC

19.39

4021.8

0.94

1,797,740

Total

385,696,353
(Updated: April 21, 2006; Source: HSTC)
Related Articles:
Total Trading Volume Sets New Record
VN-Index Sets New Record
Investors Excited About Development Policies