The Vietnamese stock market has reached nine year peak with the strong purchase from foreign sector, who has posted the net purchase of VND3,478 billion (US$153 million) on two bourses in the first quarter.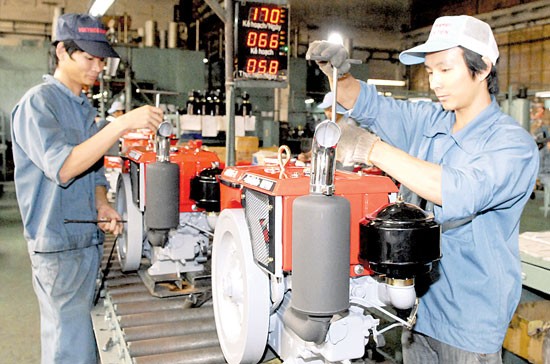 Vietnam Engine and Agricultural Machinery (VAEM) which is going to list on the stock market (Photo: SGGP)
On April 5, the VN-Index hit 724.14 points increasing 8.64 percent over last yearend.
Statistics by stock companies show that net foreign purchase was US$106 million in March, the highest level since May 2014.
So far, capitalization in the Vietnamese stock market has topped VND2,260 trillion ($99.51 billion), equivalent to 50.3 percent gross domestic product (GDP) and up 16 percent over the end of 2016. It is the highest level since the Vietnamese stock market was established.
Information from the State Securities Commission of Vietnam shows that capital mobilization touched VND40.7 trillion ($1.79 billion) in the first two months this year. Of these, the value in February accounted for 79 percent.
One of reasons for the increase has been up foreign investment funds.
At a press conference early March, chairman of the commission Vu Bang reported continuous net foreign purchase of local stocks. In January, the net buying value topped $18.4 billion, the highest ever.
The most purchased shares in HCMC Stock Exchange (Hose) is VNM of Vietnam Dairy Products Joint Stock Company with the total net purchase of VND2,654 billion ($117 million) in the first quarter.
Besides, stocks having large capitalization and listed on bourses for a couple of months have also lured much foreign capital. They comprise NVL of Novaland Investment Joint Stock Company, SAB of Saigon Beer, Alcohol and Beverage Corporation and VJC of Vietjet airline with the net purchase values of VND353.6 billion, VND340.9 billion and VND205 billion respectively.
Of them NVL and SAB have officially been traded in HOSE since December last year and VJC has been listed for a month.
Mr. Wiston Lu, an analyst from Phu Hung Securities Corporation, said that the stock market has opened many opportunities for investors with capital withdrawal and listing wave of large stated owned enterprises (SOEs). In addition, the extension of foreign ownership room is expected to lure more foreign capital flow.
They have brought the stock market a volume of new capital attracting advantage especially when more large SOEs will list their shares on bourses this year, he added.
Last year, the stock market officially saw the attendance of large state owned corporations such as Sabeco, Habeco, ACV, Seaprodex and Vinatex. This year it is expected to receive large scope listings from other stated owned enterprises with the drastic instruction by the Government.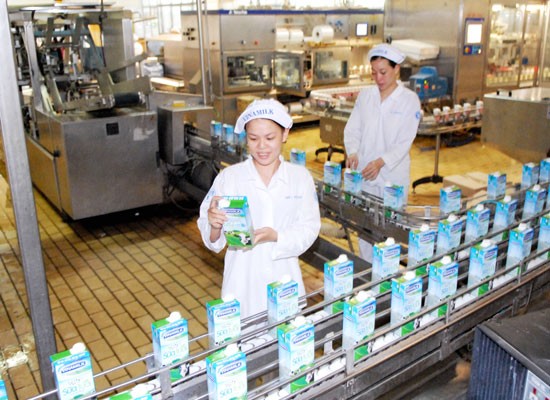 VNM is the most purchased stock by foreign investors now (Photo: SGGP)
Mr. Don Lam, director general of Vinacapital, says that SOEs equalization and listing will continue benefiting the stock market and the state asset value. These important steps will create faith for investors and increase the market liquidity.
Mr. Barry Weisblatt, director of analysis and study department of Viet Capital Securities Company, said that the stock market will continue welcoming large companies such as Mobifone and Petrolimex.
In addition, the regulation requiring public companies to list on UpCoM is forecast to bring this bourse attractive shares from well-known companies such as PV Power, Techcombank, VPBank, Vietnam Airlines, Masan Consumer and FPT Telecom, creating a motive power for the market to increase points in 2017.
New shares will make the market noisier because the 15.7 percent increase of the Vn-Index last year was partly due to stocks with large capitalization value such as ROS and SAB listed by the end of 2016. Without these two stocks, the Vn-Index will increase only 8.5 percent, he said.
Still, experts said that foreign capital flow has just concentrated on few large stocks such as VNM, SAB and VJC. The Government should step up SOEs equitization and urgently divest state capital from companies out from the list which the state hold shares. It will be difficult to lure foreign investors if the state just sells 5-10 percent shares of good companies because they cannot attend in the management.