Stock market capitalization had so far reached VND2,260 billion (US$99.13 million) equivalent to 50.3 percent Gross Domestic Product and up 16 percent over last yearend, the highest level after 20 years of the market establishment, reported chairman of the State Securities Commission (SSC) of Vietnam Vu Bang.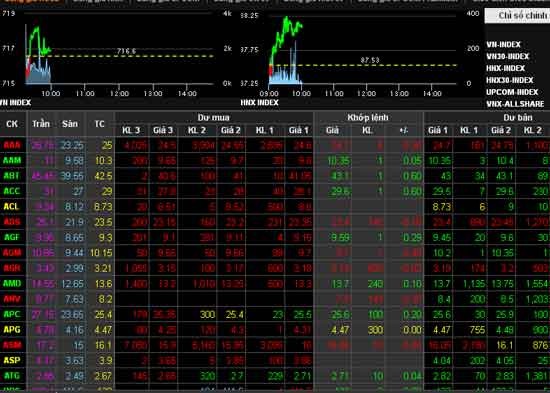 Vn-Index hit ten year high on March 6, increasing 7.7 percent over the end of 2016
Since early this year, foreign investors have kept net purchase of local shares and fund certificates worth VND1,545 billion and bonds worth VND5,960 billion.
In January, foreign net purchase topped $18.4 billion, the highest ever. The number approximated $20 billion including funds available in indirect investment accounts.
According to the State Securities Commission of Vietnam, the VN-Index closed at 716.29 points on March 6, the highest level during the past ten years, up 7.7 percent over the end of last year. HNX-Index closed at 86.55 points, up 8 percent.
By the end of February, the market has had 708 shares and fund certificates listed on two bourses and 485 shares on UPCoM with the total listing value of VND778 trillion, an increase of 7 percent over last yearend.
Market liquidity has been improved with average transaction value per session touching VND7,365 billion, up 49 percent over the same period last year and 6.6 percent compared to the year's average level.