Vietnam's main stock index fell by the most in about 15 months on Tuesday morning to 470.02 points. It was the five consecutive days of losses as investors dumped shares to avert risk amid speculation on rising inflation after the government said at the weekend it would raise electricity prices a record 15.3 percent and enhance measures to curb double-digit inflation. The fall was the biggest on the country's main exchange since late November 2009, according to Reuters.
The Ho Chi Minh Stock Exchange index shed 4 percent to close at 483.68 points, its lowest close since January 12. Among the index members, 34 increased, 216 declined, while 35 remained unchanged. Saigon Securities Inc. (SSI), the country largest brokerage, continued to be the most active share in volume with 5,445 million shares changing hands. Behind SSI is ITA and REE with shares is 2.79 million and 2.240 million.
Hanoi's HNX-Index tumbled 1.12 percent (or 1.16%), to close at 95.46 points. Among the index members, 58 strengthened, 228 shrank, while 30 remained unchanged.. Trading volume increased slightly over the previous day as more than 26 million shares changed hands worth VND 702,12 billion. VND is the lead with more than 3 million shares. KLS came next with 2.9 million shares traded.
On Saturday, state media reported the government had approved an average increase in electricity prices of 15.28 percent, to take effect on March 1.
"The panicked sentiment led to a broad sell-off," said Quach Manh Hao, Deputy Director of Thang Long Securities Co. "However, this is a golden chance for cash-rich funds to disburse now."
"Market sentiment is getting much more sour, which may lead to a continued sell-off in the coming couple of sessions," said Nguyen Hoang Long, head of the investment department at An Binh Securities.
In recent weeks, Vietnamese authorities have begun to try to address festering macroeconomic imbalances that have worried investors and played a part in decisions by Standard & Poor's, Moody's and Fitch to cut the country's sovereign ratings last year.
The consumer price index hit 12.2 percent in January and economists widely expected it to remain high for most of the year.
On February 11 the central bank devalued the currency by 8.5 percent, its biggest move since the 1997-8 Asian Financial Crisis, in an effort to re-align official and black market exchange rates.
Last week the State Bank of Vietnam increased by 200 basis points a key interest rate, the refinance rate, in a move to curb inflation and state media reported on Monday governor Nguyen Van Giau said he had won approval from the government to lower the national credit growth target to 18-19 percent from 23 percent.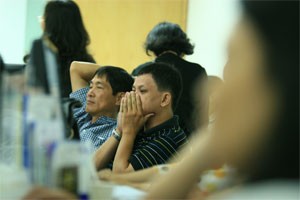 Investors caustiously watch share prices updated at a HCMC stock.
Businesses and economists have said the electricity price rise would exacerbate inflationary pressures.
The government has been considering a possible increase to the retail price of petrol, too, and there have been reports in state media about filling stations closing or raising prices on their own in anticipation of such a move.