Vietnam's major stock market in Ho Chi Minh City wrapped up the week with a strong rally as the benchmark VN-Index gained 5.8 points, or 1.7 percent, to close at 352.07 thanks to news on the wake of Wall Street's overnight surge and the recovery of Asian stock markets this morning.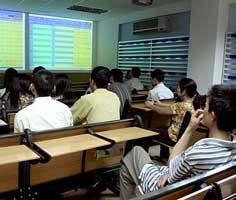 VN Index gains 5.8 points in the trading session on Nov. 14, 2008.
Of the index's 169 members, 100 advanced, 38 fell, and 31 were unchanged today. Trading volume reached 14.13 million shares.
Domesco Medical Import-Export Joint-Stock Co. (DMC) rallied VND1,500, or 2.8 percent, to close at VND56,000. The company, based in the Mekong delta province of Dong Thap, will pay a dividend of VND1,000 per share on December 25, according to a company statement posted on the exchange's Web site today.
Cat Loi Joint-Stock Co. (CLC) rose VND800, or 4.7 percent, to close at VND17,700. The Ho Chi Minh City-based company reported a profit of VND38 billion (US$2.2 million) in the first nine months, without giving any comparative figures, according to a statement filed on the bourse's Web site yesterday.
Vien Lien Joint-Stock Co. (UNI) advanced VND700, or 4.6 percent, to close at VND15,900, after announcing in a statement on the stock exchange that it will buy back 220,000 shares in the next three months.
Pha Lai Thermal Power (PPC) post a rose VND300 rise, or 1.36 percent, to close at VND24,200. The firm announced on the exchange' website today that supervisory board member Pham Quang Vinh reduced his stake from 1.15 million shares to 825,000 shares by selling 330,000 before March next year.
Vinh wants to restructure his stock portfolio, according to a statement on the exchange's website.
Vietnam Sun Corp. (VNS), operator of Vinasun taxi, was among today's losers, falling VND200, or 1 percent, to close at VND19,800. Aranda Investments Pte. Ltd., one of the firm's substantial shareholders, sold 500,000 shares to cut its holding from 7.87 percent to 4.93 percent on November 11, according to a report on the exchange's website.
At Hanoi's stock exchange, the HaSTC-Index closed at 113.07 points, showing a 2.2 percent increase from Thursday's trading session.