Vietnamese shares advanced on June 23 as investors were upbeat on expectations that the Vietnamese economy would not suffer much from Britain's exit of the European Union (EU).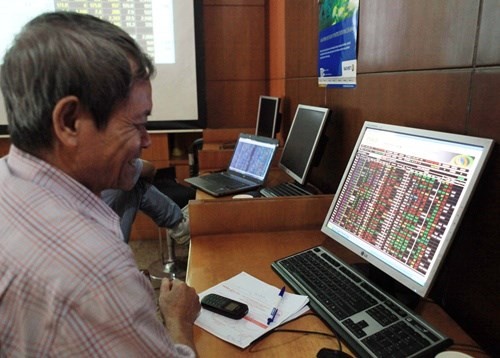 An investor at Bao Viet Securities Company. (Photo: VNA)
The benchmark VN Index on the HCM Stock Exchange rebounded 0.9 percent to finish at 632.27 points after sliding 0.3 percent on June 22.
The HNX Index on the Hanoi Stock Exchange rose 0.6 percent to rally 1.7 percent in the last four trading days.
Investor confidence was bolstered as local economists believed that Vietnam's economy would suffer little from Britain's exit from the EU.
"Vietnam will not suffer much from Britain's exit of the EU as the country is a small trade partner of Britain with a good political relationship, and a very small amount of foreign direct investment projects in the country come from British companies," Nguyen Mai, Chairman of the Vietnam Association of Foreign Invested Enterprises said.
Additionally, emerging markets in the Asia-Pacific region, including Vietnam, will remain at the centre of the world's economic development, and draw financial capital from the European markets if Britain leaves the EU, Maritime Securities Inc wrote in a report.
On the southern market, insurer Bao Viet Holdings (BVH), property and retail firm Vingroup JSC (VIC), Vietcombank (VCB), Vietinbank (CTG) and the Bank for Investment and Development of Vietnam (BID) saw gains.
BVH went up 0.8 percent, VIC added 1 percent, VCB increased by 2.6 percent, and CTG was up 1.8 percent, with BID edging up 0.6 percent.
Dairy firm Vinamilk (VNM) gained 0.7 percent as the company will sell about 9.44 million shares to its employees for a price of 37,720 VND (1.67 USD) per share, a quarter of the share price. VNM shares closed on June 23 at 140,000 VND.
On the northern market, large-cap stocks that made gains included stone-maker Vicostone JSC (VCS), Tien Phong Plastic JSC (NTP), Saigon-Hanoi Bank (SHB), and Vietnam Construction and Import-Export JSC (VCG).
Pharmaceutical companies recorded the biggest gains on June 23 on expectations that they may perform well in the second quarter and allow foreign investors to raise ownership, and on expectations that the State will make divestments from those companies, analysts told local media.
Among those companies, Ha Tay Pharmaceutical JSC (DHT) and Lam Dong Pharmaceutical JSC (LDP) surged 8.6 percent and 9.2 percent, respectively, while Domestic Medical Import-Export JSC (DMC) jumped 4.4 percent, and DHG Pharmaceutical JSC (DHG) surged 6.2 percent.
Investors on June 23 exchanged more than 168.4 million shares worth 3 trillion VND, an increase of 5 percent from previous day's trading value.