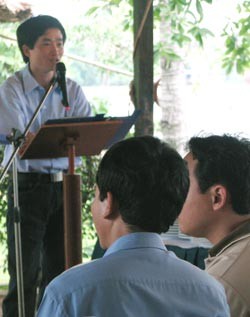 A seasoned investor offer suggestions for improvement of the stock market. (Photo: T.C)
Since early February, the number of stock trading accounts has reportedly doubled with 60,000 accounts. Several investment funds such as VinaCapital, Dragon Capital, and Indochina Capital increased their investment volume.
Despite the increasing in quantity, investor participation is still limited and spontaneous.
Therefore, Vietstock forum is considered as a "playground" where investors can comfortably exchange their point of views on the market situation and offer suggestions for improvement.
The Viet Nam's stock market is coming closer to its 6th birthday. Six years is not along time for such an important institution of the financial market but enough to change the investment philosophy of Vietnamese people.
Previously, people used to put their savings in gold and foreign currencies and tuck them away. Nowadays, they have discovered another way to invest: securities.
Vietnamese stock market is growing rapidly. However, in order to make the market more transparent and attract more investors, a lot of things must be done by securities companies and market regulator, such as creating more goods for the market and improving the trading system, investors, said.
Participants in the meetings included the chief representative of the State Securities Commission (SSC) in Ho Chi Minh City, Mr. Bui Nguyen Hoan, officials from Ho Chi Minh City Securities Trading Center (HSTC), analysts, representatives from securities companies, many investors and Vietstock's forum members.