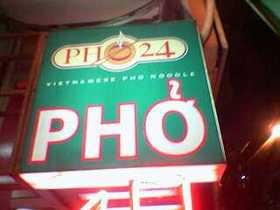 Pho 24 is one of popular brand names of Pho noodle restaurants in Viet Nam.
VinaCapital Group officially announced Tuesday that it will buy 30% of the Pho 24 Joint-stock Company.
Pho 24 (Noodle 24) is one Viet Nam's most successful franchises. The company opened the first Pho noodle restaurant in Ho Chi Minh City in 2003, and now has plans to open its 41st Pho noodle restaurant in the country.
The brand name has also expanded overseas with a franchise system in Indonesia, the Philippines and Korea.
VinaCapital Group, capitalized at US$224 million,  manages the Viet Nam Opportunity Fund (VOF), a closed-end fund listed on the London Stock Exchange's (LSE) Alternative Investment Market (AIM).
Related Articles:
WTO Is the Push for Globalizing Viet Nam's Trademarks
VinaCapital Fund Buys 15% of Masan Foods
Vietnamese Food-and-Drink Festival in Germany