Construction giant Vinaconex, also known as Vietnam Construction and Import - Export JSC, is likely to be under pressures of huge debts, while its subsidiary Vinaconex 3 looks to be too cautious to beef up its businesses in spite of an abundant amount of cash, experts said.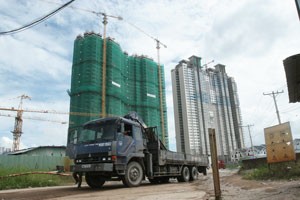 Hanoi-based construction giant Vinaconex is likely to be under high pressures of large debts, experts say (Photo:Minh Tri)
In 2010, the Hanoi-based company made a gross revenue of VND2.2 trillion (US$110 million), of which property sales made nearly 32 percent of the total amount.
Brokers said the Hanoi-listed construction giant with trading name of VCG was hit badly by the government's cap on credit to non-productive sectors – including real estate and stock investments – as the figures mentioned above showed that its profit mainly came from property investments.
"Actually, Vinaconex would have struggled with many difficulties this year, especially high lending rate, even if the government did not squeeze property credit," said a director of a brokerage in Ho Chi Minh City.
The Hanoi-based builder last year paid an interest expense of more than VND900 billion ($45 million), which is double its net profit of VND447 billion and as much as a net asset value of an investment fund, he said.
Statistics show Vinaconex borrowed a short-term loan of nearly VND2.9 trillion and a long-term one of VND8.2 trillion from a bank in 2010.
"What if the lending rate amounts to 15 percent per annum, Vinaconex will have to pay out over VND130 billion ($6.5 million) per month in interest on the loans. Thus the debts will likely to wipe out the entire profit of the company this year, if it does not have an appropriate repaying plan," a financial expert told Dau Tu Tai Chinh Newspaper.
Vinaconex issued more than 113 million additional shares to raise its registered capital to VND3 trillion in 2010 and experts expected more issues will follow due to the firm's large debts.
However, with the stock market remaining bearish, more share dilutions will make VCG shareholders willing to sell off their stakes in the construction corporation dramatically, brokers warned.
Among subsidiaries of Vinaconex is construction firm Vinaconex 3, which used to be one of the market's top picks.
The Hanoi-listed company with trading name of VC3 is contractors of many large property projects in the north, including an urban zone in Yen Bai Province, two residential zones in Hanoi and a market in Thai Binh Province.
However, at the annual general meeting last year, VC3's shareholders were vexed with the firm's low earning target of VND32 billion in profit in 2010, compared to 2009's profit of VND30 billion.
VC3 last year made an after-taxed profit of VND35 billion, with earnings-per-share ratio (EPS) reaching VND4,400 per share and the price-to-earnings ratio (P/E) amounting to 8x.
Analysts said despite the abundant amount of cash and profitable property projects, the board of directors of VC3 seems to hesitate in boosting their firm's investment portfolio.
Many investors, meanwhile, still wondered why the parent corporation Vinaconex, which is holding 50 percent stakes in VC3, has not made any move to encourage its subsidiary to beef up its businesses.