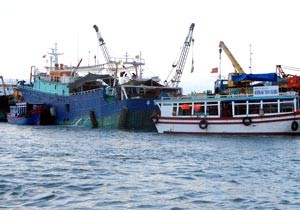 The marine transportation income is 70% of Vinafco's revenue. (Photo: T.C)
5.6 million shares of the Vinafco Joint-stock Company (Vinafco), under the trading code of VFC, made the first trading session on the Ho Chi Minh City Securities Trading Center (HSTC). This the fifth transport companies to list and the 43rd overall on HSTC.
With the chartered capital of 55.75 billion, Vinafco is the third biggest transport company on the stock market.
Other listed companies in the same industry includes the General Forwarding Agency Corporation (Gemadept – VND 345.2 billion in chartered capital), the Ha Noi Maritime Holding Company (Marina Ha Noi – VND 67.3 billion), the Trans-Forwarding and Warehousing Corporation (Transimex Saigon – VND 43 billion) and the Ha Tien Transport Joint-stock Company (Ha Tien Transco – VND 48 billion).
In the first session, VFC was priced at VND 30,000/share. However, in its second session, VFC downed to floor-price at VND 28,500/share, losing VND 1,500/share. Selling volume unmatched reached 40,000 shares, which could not find buyers.
Vinafco's main businesses are marine transportation (accounting for 70% of revenue and 75% of earnings); domestic and international multi-means transport; warehousing, distributing and selling imported goods.
Currently, the state owns 12.59% stake in the company, employees hold 34.23% and outside investors 53.18%.
In 2005, the company made an after-tax profit of VND 8.2 billion from the gross revenue of VND 332.4 billion, while those figures of 2004 were VND 14 billion and VND 306.7 billion, respectively.
The company is estimated to reach the profit of VND 15.1 billion in 2006, VND 18.3 billion in 2007, VND 31.5 billion in 2008 and VND 32.3 billion in 2009.