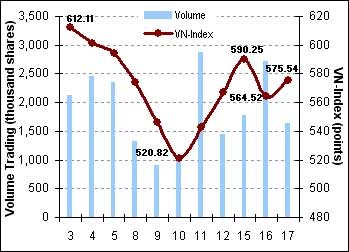 The VN-Index chart in May 2006. (By T.C)
The sudden pullback on May 16 could not buck the bullish trend since Vinamilk (VNM) and Gemadept (GMD) increasing demands came to power the market.
Over 222.3 thousand GMD shares were traded at VND 82,000/share, up VND 2,000/share.
Meanwhile, 191.1 thousand VNM shares were also changed hands, which pushed this largest market capitalization stock to VND 90,500/share, an increase of VND 1,500/share.
Except for VNM and GMD, the market was stable on the whole as there were few imbalances between demand and supply. REE stayed flat at VND 95,000/share while 8 plunging stocks slightly slowed down the market surge as VN-Index upped 11.02 points (1.95%) and closed at 575.54 points.
Besides, there were VND 9.4 billion worth of shares and VND 634.6 billion worth of bonds in negotiating transactions.
The trading volume of the whole market reached VND 754.62 billion (equivalent to US$ 47 million).
Related Articles:
Stock Price Suddenly Slid
Listed Companies To Raise More Fund