Shares advanced on both local exchanges yesterday, driven by dairy producer Vinamilk, and market liquidity remained moderate.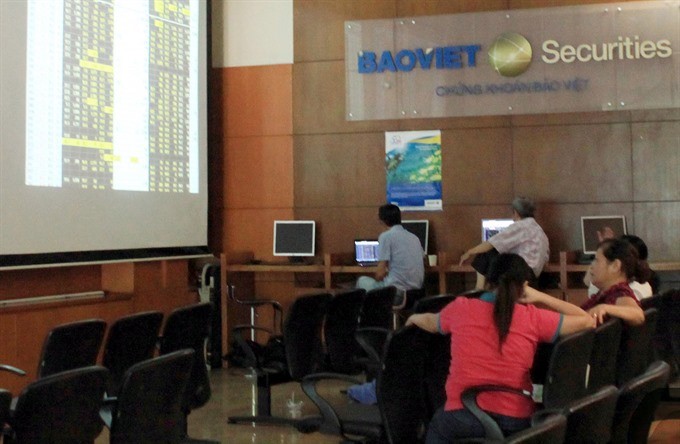 Investors follow movements of share prices at Bao Viet Securities Company in Hanoi. — VNA/VNS Photo Tran Viet
The benchmark VN Index on the HCM Stock Exchange inched up 0.2 percent to close at 664.72 points. The southern stock index fell slightly on Wednesday.
The HNX Index on the Hanoi Stock Exchange rose 0.7 percent to close at 79.56 points. The northern market index has increased by 0.9 percent over two sessions.
More than 144 million shares were exchanged on the two local bourses, worth VND2.55 trillion (US$113.5 million). That included nearly 21.8 million shares, worth VND470.45 billion, which were traded via put-through transactions.
Dairy producer Vinamilk, the largest company by market capitalization, made gains for a third day to push the stock market forward.
The company's shares, listed as VNM on HOSE, advanced 2.1 percent after one of the firm's shareholders – F&N Dairy Investment - registered to purchase nearly 21.8 million Vinamilk shares between December 30 and January 27.
If the deal is successfully completed, F&N Dairy Investment will raise its stake in Vinamilk from 13.65 percent to 15.15 percent, owning nearly 220 million shares. VNM has jumped 5 percent in the last three trading days.
Sai Gon Thuong Tin Commercial Joint Stock Bank (STB) yesterday jumped 3.3 percent on speculation that an external organisation will help restructure and take over control of the bank from the State Bank of Việt Nam.
The HCM City-based bank's shares have risen 14.6 percent in the last five sessions.
Other blue chips also advanced, including Faros Construction Corp (ROS), property developer and retailer Vingroup (VIC), insurance-finance services firm Bao Viet Holdings (BVH), Sai Gon-Hanoi Bank (SHB) and Sai Gon-Hanoi Securities Corp (SHS).
But Sai Gon Beer, Alcohol and Beverage Corp (Sabeco) was one of the stocks that hindered market growth, losing 1 percent after Bao Viet Holdings signed up to sell 500,000 shares of the largest brewer.
Mid-cap and small-cap stocks, or speculative stocks, ended down from Wednesday's closing prices as investors locked in profits after previous gains.
Among those stocks, two real estate firms FLC Group (FLC) and Hoàng Quân Consulting Trading Service Real Estate Corporation (HQC) fell 2.5 percent and 2.2 percent, respectively.