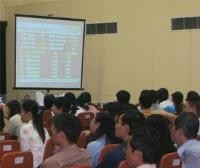 Vinamilk's stocks will be announced to the public at the securities trading centers of Ho Chi Minh City and Ha Noi.
Viet Nam Dairy Products Joint-stock Company (Vinamilk) will announce its stocks to the public on Jan 19, 2006.
With the participation of Vinamilk in the domestic stock market, the total value of Vietnamese stocks to be auctioned will be at over VND 3.5 trillion, up nearly two times, in which Vinamilk hold the largest portion.
Currently, Vinamilk owns 159 million common shares (VND 10,000 per share) with the charter capital of VND 1.59 trillion.
Vinamilk's shareholders include the government (30%), foreign investors (30%), the company's staffs (15%) and other domestic organizations and individuals (25%).