The Viet Nam Shipbuilding Industry Corporation (Vinashin) is approved by the Governor of the State Bank of Viet Nam (SBV) to establish a securities company under the Vinashin Finance Company.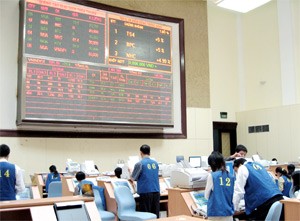 The Vinashin-established securities company will be listed on trading floor. (Photo: T.C.)
Accordingly, Vinashin Securities Company will be set up under the model of one-member limited liability company with 100% of charter capital funded by the Vinashin Finance Co. The company will have its own legal entity and independent accounting.
The Securities Company is to provide securities brokerage services, self-trading, management of investment portfolios, financial and securities investment consultancy, and securities custody.
After being licensed by the State Securities Commission under the Ministry of Finance, the Vinashin Securities Company must send a copy of all documents related to its establishment to the SBV.