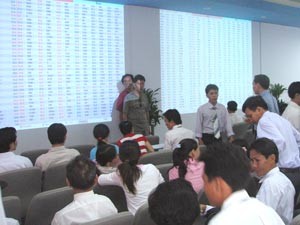 The Ho Chi Minh City Bourse will surge with new "VND billion companies" to list. (Photo: T.C)
On July 4, shares of Vinh Son – Son Hinh Hydro Power Joint-stock Company (VSHPC) officially stopped being traded on Ha Noi Securities Trading Center (HASTC) and are being prepared for its listing on Ho Chi Minh City Securities Trading Center (HSTC).
This is the first stock ever on Viet Nam's stock market to switch bourse. After the leaving of VSHPC, Ha Noi bourse currently has 11 listed companies with the total capital of VND 3,723 billion, including the PPC stock of Pha Lai Thermal Power Joint-stock Company, which accounts for 82.5% of the market capital.
VSHPC, which has the chartered capital of VND 1,250 billion, was equitized from Vinh Son – Song Hinh Hydro Power Plant of the Electricity of Viet Nam (EVN). It is one of the four equitized companies of the electricity industry listing on the stock market.
The VSH stock of VSHPC was also one of the first six stocks trading on the Ha Noi bourse from July 14, 2005 and has gone through 155 trading sessions on the bourse.
After nearly one year on HASTC, as of June 30 2006, the total trading volume of VSH reached 45,905,125 shares, equivalent to VND 924 billion, including 9,406,400 shares coming through the price-announcing system, or VND 318,14 billion (20.5% of the total volume and 34.4% of the total value). Transactions conducted through negotiation trading reached 36,498,725 shares, equivalent to VND 605.86 billion.
Therefore, each session saw an average of nearly 300,000 VSHPC shares changing hands at VND 6 billion. VSHPC can be considered as most liquid stock of Ha Noi bourse.
However, in order to push its stock's liquidity even further and meet the trading needs of investors as well as the company's development target, VSHPC has decided to leave Ha Noi bourse for HSTC, where the average trading volume is ten times higher than that of HASTC.
In its last trading sessions in Ha Noi – July 3, the closing price of VSH stayed at VND 35,000/share, leading the market with VND 3.3 billion in price-announcing transactions and VND 1.26 billion in negotiation trading, accounting for 59.46% of the total market trading volume.
After having the permission from HASTC to unlisted, VSHPC just got the listing license No. 54/UBCK-GPNY from the State Securities Commission (SSC). The license allows VSHPC to list its 125 million shares on HSTC.
The company is expected to announce its listing day by the end of this month.
Related Articles:
Unico – The Second Telecom Company To List
EVN Prepares To Issue An Extra VND 600 Billion Worth Of Bonds
Sacombank's Stock Introduced To The Public
New "Goods" for Vietnamese Stock Market