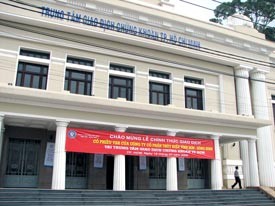 Ho Chi Minh City Securities Trading Center attract the VSH stock newcomer. (Photo: T.C)
On July 18, shares of the Vinh Son – Song Hinh Hydro Power Joint-stock Company (VSHPC) officially floated on the Ho Chi Minh City Securities Trading Center (HSTC). It was the first stock in Viet Nam to change bourse, from the Ha Noi exchange.
With 125 million shares listed, VSHPC is the third biggest enterprise on HSTC with VND 1,250 billion of shareholder's equity.
In the first phase of the session, VSH was priced at VND 35,500 each. The trading volume reached 74,370 shares, equivalent to VND 2.64 billion.
With this trading result, the company's market capitalization reached VND 4,437 billion.
Previously, VSH is the stock with the highest liquidity on the Ha Noi bourse and investors have expected it to boost the demand of the stock market.
In its debut, however, the market fell strongly in 2 straight sessions as 30 out of 43 stocks and fund certificates slid, including shares of the two "billion" companies Sacombank and Vinamilk. STB of Sacombank downed VND 2,000/share (2.58%) while VNM of Vinamilk fell VND 1,500/share (1.95%).
Moreover, many other key stocks such as REE, GMD, KDC and SAM also fell, causing the VN-Index to drop 10.18 points (2.06%) to 484.13 points. This is the lowest over 3 months of VN-Index.
The trading volume of the whole market reached 1.61 million shares, or VND 95.65 billion, droping by 33.8% over the previous session.
Related Articles:
Sacombank's Share Makes Debut in HCMC Bourse
Vinh Son – Son Hinh Hydro Power To Change Bourse
New Investment Opportunities with More Listings and Share Sales