Vietnamese shares extended gains on July 5 as financial firms advanced on expectations of positive second-quarter performance.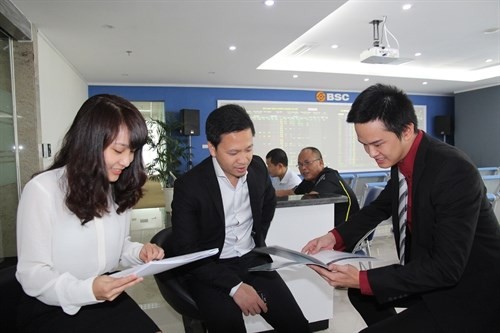 Traders at BIDV Securities Corp (Photo: VNA)
The benchmark VN Index on the HCM Stock Exchange (HoSE) edged up 0.5 percent to finish at 650.88 points, reaching a fresh eight-year high. The southern market index has rallied a total 4.9 percent in seven sessions.
The HNX Index on the Hanoi Stock Exchange inched up 0.1 percent to close at 85.91 points, climbing a total 2.8 percent in the last six trading days.
Financial firms, including banks, brokerage companies and insurers, led the markets up on expectations that these companies have performed better in the past three months.
In the insurance sector, Bao Viet Holdings (BVH) jumped 3.3 percent and PVI Holdings (PVI) was up 0.4 percent.
In the banking sector, the three largest banks, Vietcombank (VCB), Vietinbank (CTG) and the Bank for Investment and Development of Vietnam (BID), gained between 1.8 percent and 2.9 percent.
Other banks such as Sacombank (STB), Military Bank (STB) and Sai Gon-Hanoi Bank (SHB) also advanced.
Securities firms maintained their good forms. Sai Gon Securities Inc (SSI), HCM City Securities Corp (HCM), VNDirect Securities Corp (VND) and BIDV Securities Inc (BSI) remained the factors that lifted the sector up.
SSI added 1.8 percent, HCM jumped 4 percent, VND advanced 3.1 percent and BSI went up 3.3 percent. SSI, HCM and VND were also the four largest securities companies in Vietnam, according to HoSE.
Other large-cap stocks on the two local exchanges, such as consumer goods producer Masan Group (MSN) and Tien Phong Plastic JSC (NTP), also helped markets gain. MSN and NTP were up 0.7 percent and 3.8 percent, respectively.
Among energy stocks, PetroVietnam Gas Corp (GAS) was down 1.5 percent, and PetroVietnam Drilling and Well Service Corp (PVD) and PetroVietnam Technical Service Corp (PVS) fell 1.6 percent each.
Two other blue chips, the dairy firm Vinamilk (VNM) and technology retailer FPT Corp (FPT), ran into profit-taking after recent gains. VNM and FPT closed down 0.7 percent each.
Investors exchanged 218.2 million shares worth 4 trillion VND (177.8 million USD), a slight increase from the July 4 trading value.