The VN Index on the HCM Stock Exchange advanced further on January 23 after banks and some large-cap companies released their quarterly and yearly earnings reports, boosting investor confidence.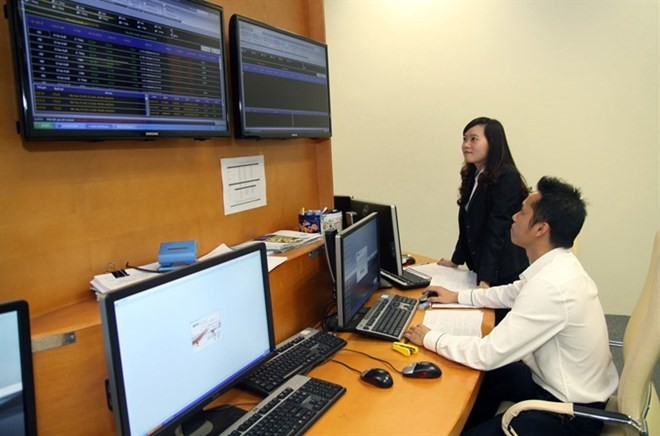 Underwriters at the Hanoi Stock Exchange. (Photo: VNA)
The benchmark inched up 0.1 percent to close at 687.15 points, extending its gain of total 0.7 percent for a second day.
The banking sector was lifted by Vietcombank (VCB), Vietinbank (CTG) and Bank for Investment and Development of Vietnam (BID) with growth rates ranging from 0.3 percent to 2.2 percent.
Vietcombank late last week announced its net profit for 2016 was 6.82 trillion VND (303.3 million USD), a yearly rise of 28 percent. Vietinbank early this month estimated a profit of 8.25 trillion VND for last year, an increase of 12 percent from 2015.
In the rubber industry, Dong Phu Rubber JSC (DPR) and Tay Ninh Rubber JSC (TRC) also contributed to the market's gain after posting positive post-tax profits for the fourth quarter of 2016.
DPR recorded a post-tax profit of 69 billion VND in the fourth quarter, an annual increase of 163 percent, while TRC saw its figure rise 27 percent to 150 billion VND.
Among the 30 largest listed companies by market capitalisation, PetroVietnam Gas Corp (GAS) also recorded positive earnings for 2016. The company reported a net profit of 7.07 trillion VND, exceeding last year's targeted profit by 36 percent. The corporation's shares edged up 0.7 percent on January 23.
Hoang Quan Consulting, Trading and Real Estate Services Joint Stock Corporation (HQC) surged 6.9 percent after the company announced last week it would buy back 50 million shares between January 25 and February 23.
On the opposite side, the HNX Index on the Hanoi Stock Exchange fell 0.3 percent to close at 83.01 points. The northern market index ended up 0.4 percent on January 20.
Asia Commercial Bank (ACB), finance-insurance firm PVI Holdings (PVI) and Vietnam Construction and Import-Export Corp (VCG) were the large-cap stocks that dragged the northern exchange down.
Market trading liquidity on both local exchanges continued to decline as "money tends to flow out so that investors indulge in year-end consumption," while some of them are waiting for a "clearer shot" to make their investments, Bao Viet Securities Company said in a note.
More than 110.8 million shares were traded, worth 2.18 trillion VND, a decline of 8.2 percent in trading volume and 12 percent in trading value from last week's daily average figures.