Shares sank for a second day on the two exchanges, following investor fear of a market correction.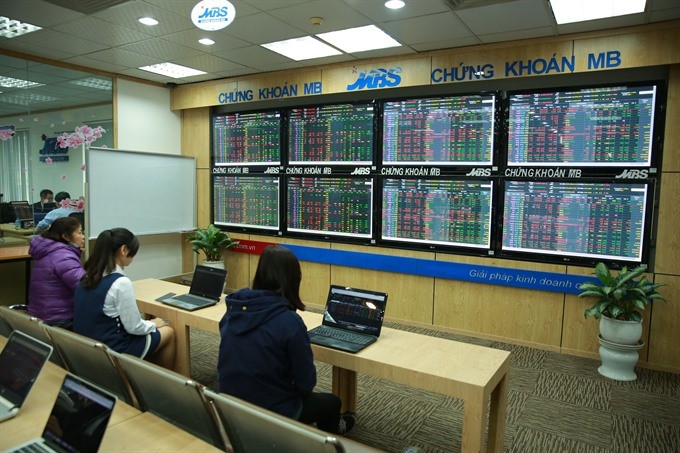 Investors at the MBS exchange floor in Hanoi (Photo: VNS)
The benchmark VN-Index on the HCM Stock Exchange edged down 0.2 to close at 709.5 points, expanding the two-day loss to 1.1 percent.
On the Hanoi Stock Exchange, the HNX-Index decreased 0.3 percent to end at 86.6 points. The northern index inched down 0.04 percent on Tuesday.
Investors continued to stay away from large-cap stocks. Seventeen of the 30 largest shares by market value and liquidity in HCM City slumped, while only eight advanced.
Insurance and bank stocks were among the biggest losers: large firms such as Bao Viet Holdings (BVH), BIDV Insurance (BIC), PVI Holdings (PVI) and lenders BIDV (BID), Vietinbank (CTG), Military Bank (MBB), Vietcombank (VCB) and Sacombank (STB) declined between 0.5 percent and 1.9 percent.
Insurance and bank stocks saw average decreases of 1.51 percent and 0.72 percent, respectively.
"The market seems to have lost its growing momentum since the VN-Index exceeded 710 points," stock analysts at Vietnam Investment Securities Co wrote in yesterday's report.
Blue chips and large-cap stocks treaded water; only small caps maintained the market uptrend, the report said.
On the bright side, several stocks advanced thanks to positive information.
Hòa Phát Group (HPG) climbed 2.3 per cent following the announcement that the company plans to adjust its profit target up 20 percent to VNĐ6 trillion in 2017.
Budget airline Vietjet hit the daily limit rise of 7 percent after its debut on Tuesday, settling at VND115,500 (US$5.07) a share.
According to Bao Viet Securities Co's prediction, the market might experience a correction in the next sessions, through which the VN-Index would likely move around 700-705 points.
Liquidity improved with a total of 277.2 million shares worth a combined VND4.1 trillion ($180 million) being traded in the two markets, up 12 percent in volume and 8 percent in value compared to the previous session.
Foreign investors were net sellers in HCM City's market for a tiny value of VND1.2 billion, but they extended their net buying streak to six consecutive sessions on the Hanoi's exchange with a net value of VND6.4 billion.
Vinamilk (VNM) continued to top their top buy list with a net value of VND40.3 billion, following FLC Faros Construction Corp (ROS) with nearly VND30 billion.