Viet Nam's benchmark VN-Index continued to shed 32.17 points to close at 808.83 – the biggest slide over the past 6 months while the HASTC-Index in Ha Noi shed 9.88 points to stop at 265.8, drawing a murky vision for the whole stock market.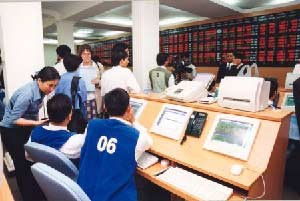 The stock market continues to drop
The new 808.83 points is also considered the lowest rate over last year.
On the national scale, a total 244 stocks declined, 139 of which belonged to the Ho Chi Minh City bourse and 105 to the Ha Noi one.
This marks the highest number of falling shares recorded since the stock market was set up in Viet Nam.
Some stocks were listed limit down, including FPT Corporation (FPT) share which was traded at VND189,000 each, Seaprodex Tien Giang (ACL) at VND78,000, Nam Viet (ANV) at VND85,000, Phu My Fertilizer and Chemicals (DPM) at VND63,500, Faquimex (FBT) at VND39,900 and Thuan An Wood Processing (GTA) at VND30,700.
Big caps such as Sacombank (STB), Pha Lai Thermal Power (PPC), Saigon Securities (SSI), Vincom (VIC) and Vinh Son Hydropower (VSH) also suffered a similar downtrend.
Many new investors expect supports from the Government in adjusting the stock market prior to giant Sabeco's IPO worth US$80 million, planned this month.
Related articles:
Stock Market Slides Further