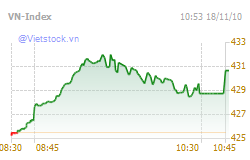 Movements of VN-Index on November 18. (Photo: vietstock.vn)

The shares of 269 companies and five mutual funds listed on the Ho Chi Minh Stock Exchange rebounded on November 18 thanked to increasing buying demand.
Vietnam's benchmark VN-Index jumped 1.23 percent, or 5.22 points, to finish at 430.72 points.
On the measure, 198 stocks increased, 36 declined, while 40 stalled.
Around 32.41 million shares changed hands at a value of VND683.81 billion on the city bourse today.
Saigon Thuong Tin Commercial Bank or Sacombank (STB) continued to lead the list of most active shares in volume with 2.5 million shares changing hands.
Saigon Securities Inc. (SSI) took the second rank with 1.25 million shares, followed by Vinh Son - Song Hinh Hydropower Joint Stock Company (VSH) with 825,230 shares.
Cotec Construction Joint Stock Company (CTD), Ho Chi Minh City Metal Corporation (HMC), and Mien Trung Petroleum Construction Joint Stock Company (PXM) all mounted 5 percent to VND63,000, VND14,700, and VND10,500 respectively.
Industrial Urban Development Joint Stock Company No.2 (D2D) closed 4.98 percent higher than the previous day to trade at VND33,700.
Vinafco Joint Stock Corporation (HFC) and Viet - Han Corporation (VHG) both soared 4.96 percent to VND14,800, and VND12,700 respectively.
Thuan Thao Corporation (GTT) lost 12.15 percent to VND9,400. The company will pay dividends for this year in cash to its current shareholders at a ratio of 12 percent since December 22.
Tay Bac Minerals Investment Joint Stock Company (KTB) plunged 5 percent to VND20,900.
Chuong Duong Beverages Joint Stock Company (SCD) and Sieu Thanh Joint Stock Corporation (ST8) both eroded 4.96 percent to VND24,900, and VND23,000 respectively.
The Hanoi's HNX-Index sprang 2.93 percent, or 2.86 points, to close at 100.59 points. Trading volume faintly dropped over the previous session as around 28.26 million shares worth VND482.46 billion changed hands.
The UPCoM-Index gained 0.48 points to 40.39 points as of 11 am local time. A total of 115,540 shares traded at VND1.37 billion.