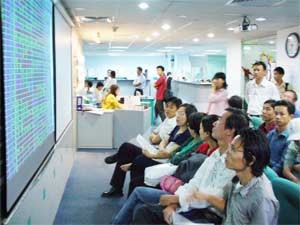 Investors keep a watchful eye on the VN-Index as the market shows to many ups and downs. (Photo:TK)
After surprising increases over ten consecutive sessions, the VN-Index went down today to close at 1,054.69 points, down 11.35 points (or 1.06%) from the previous session.
At the session's close, the market's total trading volume was 5.8 million shares, worth over VND657.7 million. 57 stocks rose while 31 fell.
Blue chips like BMC, SJS, KDC, NAV and BMP were among the winners of the day, rising to within 5% of the trading limit.
Like the Ho Chi Minh City market, the Ha Noi bourse this morning was slightly down 0.99 points to close at 337.1. Out of a total 86 stocks, 47 went down, 29 rose and 11 remained unchanged.
Stock market analysts believe that the fall was an inevitable correction to a market currently ballooning with overpriced stocks.
SSI issues 30 million stocks for capital mobilization
The Saigon Securities Joint-Stock Company (SSI) announced recently that it will issue 30 million stock bonds to mobilize some VND1.9 trillion worth of capital.
Among the 30 million common stocks, SSI will use 10 million to pay dividends through stocks and sell another 10 million for current stockholders at a rate of 5:1. Of the remaining 10 million, 1 million will be sold to members of its board of directors, directorates, board of controllers, and staff and 9 million will be earmarked for big investors directly.
Prices will be set at VND50,000 per stock with the Board of Directors deciding the retail price rate (expected to be approximately VND 150,000) for large investors depending on the market situation.
On May 28, they will also issue a list of stockholders who will gain dividends from stocks and who have the right to buy additional issued stocks. Registration to buy stocks will be carried out from June 11 to July 6, 2007.
Today's winners and losers: