The VN-Index reverse coursed this morning as it fell 13.17 points to close at 833.88.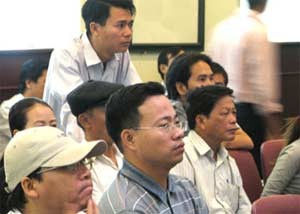 Investors become more worried as the VN-Index continues to reverse course.
Total turnovers today only reached 5.5 million worth VND498.67 billion or US$31.116 million.
Main factors leading to the gloomy sentiment on today's session was believed to lie in a sudden increase in sell orders of FTP Corporation (FPT) shares and the humble number of buy orders this morning.
All eyes were on bluechip FPT whose CEO's decision to sell 250,000 shares worth VND48 billion (US$3 million) this week has dragged other shares down a touch.
Big caps like Sacombank (STB), Phu My Fertilizer and Chemicals (DPM) and Saigon Securities (SSI) saw a decrease in prices and matched orders compared to last week.
Meanwhile, Government's efforts to reheat the stock market such as adjusting initial public offerings (IPO) and pumping more VND into the bourses by buying dollars do not seem to be effective at this moment.